Angle Grinder offers tool-less wheel changes.
Press Release Summary: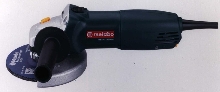 WE14-150 Plus with Vario-Constamatic full-wave electronic speed control, maintains constant speed while operating during maximum load and no-load conditions. It is rated at 1,400 watts, and operates at 6,000 to 9,000 rpm with 12.0 A motor. Maximum wheel diameter is 6 in. Grinder includes 2-position side handle, S-automatic safety clutch, winding protection grid, and thermal overload protection.
---
Original Press Release:
New Angle Grinder From Metabo Offers High Productivity Operation For Heavy Duty Applications

West Chester, PA, April 2002 - The WE14-150 Plus angle grinder, which maintains a constant speed while operating during both maximum load and no-load conditions, has been introduced by Metabo. The tool features Metabo's Vario-Constamatic (VC) full-
wave electronic speed control, allowing the operator to achieve significantly greater productivity while grinding.

The WE14-150 offers thermal overload protection to reduce motor burn out when used in heavy-duty applications. A light signal flashes to give warning of impending overload to the operator if the temperature of the windings should approach the maximum
permissible value.

The grinder includes several standard features for easy operation, including Metabo's unique "Quick" system that enables the operator to change grinding wheels without the use of tools, significantly reducing downtime. Metabo also offers a tool-less wheel guard adjustment that allows the operator to make adjustments rapidly and safely.

The WE14-150 incorporates Metabo's Marathon motor with epoxy resin powder-coated field coils, which make the motor extremely resistant to destructive grinding dust and help prevent overheating. The grinder also includes a two-position side handle for additional comfort and control during operation, as well as Metabo's exclusive S-automatic safety clutch to prevent injury from kickback in the event of a wheel jam. A winding protection grid deflects harmful airborne debris away from armature windings, increasing motor life by up to five times.

The WE14-150 Plus has a maximum wheel diameter of 6" and weighs only 5.5 lbs. The grinder is rated at 1,400 watts, operates at a no-load speed of 6,000-9,000 rpm with a 12.0 amp motor, and has a spindle thread of 5/8"-1 1.

For more information, contact David Smith, Metabo Corporation, 1231 Wilson Drive, West Chester, PA 19380. Tel: 800/ 638-2264; Fax: 800/ 638-2261; Email: dsmith@metabousa.com; Web: www.metabousa.com.

Metabo, a leading international manufacturer of professional grade portable electric tools for industrial, construction and welding applications, has international headquarters in Nurtingen, Germany and U.S. headquarters in West Chester, Pennsylvania. The company has focused its product development on technological advancements in electronic circuitry and mechanical design, which has resulted in high performance, durable power tools. The name Metabo is German for "metal-boring," symbolic of the first tool -- a metal-boring tool -- manufactured by the company in 1924.
More from Adhesives & Sealants