Angle Encoder is suited for semiconductor industry.
Press Release Summary: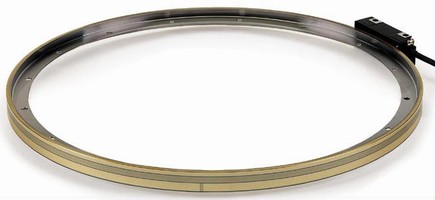 Featuring scanning unit with movable faceplate that maintains position under machine vibrations, ERA 4000 ring encoders use mounting procedure centered on 3 marks on scale drum that are offset by 120° each. This enables exact drum centering during machine installation and prevents effects of radial deviations. Series offers distance-coded reference marks and grating periods of 20, 40, or 80 microns. Output is available in 1 VPP or TTL with interpolation up to 100x.
---
Original Press Release:
HEIDENHAIN's New High Accuracy Angle Encoder for the Semiconductor Industry
SCHAUMBURG, IL - (August 2005) - In order to meet the need of the semiconductor industry for angle encoders without bearing that feature higher accuracies and large hollow shafts, HEIDENHAIN Corporation now introduces its first of its series of new ERA 4000 angle encoders. Perfect for use on wafer positioning systems as well as on rotary stages, this encoder boasts a low moment of inertia and has a unique mounting method. This unique encoder mounting procedure centers on three marks on the scale drum that are offset by 120 degrees each. These three marks were applied to the ring while it was still on the HEIDENHAIN ruling engine before the incremental and reference tracks were laid down. By indicating these marks, exact drum centering is quickly possible during machine installation, without worries of an unknown center or a misshapen grating. This type of mounting prevents the effects of radial deviations due to centering issues, common with other mounting methods. Also, HEIDENHAIN's ERA 4000 ring encoder scanning unit has a movable faceplate, thus allowing for the best signal possible to be obtained from small easy adjustments to it. The faceplate will maintain position even under the toughest machine vibrations. HEIDENHAIN's lightweight ERA 4281 is the first angle encoder in this series and was developed especially for the semiconductor industry. Because of its design, it offers higher accuracies than ever before available with a single scanning unit. The ERA 4281 is now available in seven different sizes, ranging from an outer diameter of 52.65 mm to 305.84 mm. Other size diameter encoders are planned for 2006. This series of encoders offers distance-coded reference marks and grating periods of 20, 40 or 80 microns. Output is available in either 1 VPP or TTL with interpolation up to 100x. For more information, contact HEIDENHAIN at (847) 490-1191, or write to us at HEIDENHAIN CORPORATION, 333 E. State Parkway, Schaumburg, IL 60173. HEIDENHAIN can also be accessed directly via our web site at www.heidenhain.com or e-mail at info@heidenhain.com. HEIDENHAIN CORPORATION is the North American subsidiary of DR. JOHANNES HEIDENHAIN GmbH, a leading international manufacturer of precision measurement and control equipment. The product line includes linear scales, rotary and angular encoders, digital readouts, digital length gages, CNC controls and machine inspection equipment.
More from Architectural & Civil Engineering Products