Anchor Point is designed for fall arrest system.
Press Release Summary: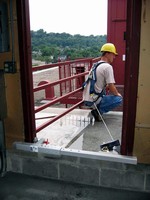 Using elements such as doors or windows, Door/Window Jamb Anchor is compressed against door or window frame jamming itself between 2 vertical sides. Weighing just over 6 kg, anchor can be moved between jobs. Combined with harness, shock absorbing lanyard, or self-retracting lifeline, it provides efficient fall protection and height safety system. Non-penetrating anchor point is suited for use during initial residential or commercial construction, as well as for post-construction needs.
---
Original Press Release:

DBI-SALA Introduces Their New - Provides a Fast, Simple and Safe Fall Protection Anchor Point!



DBI-SALA, the world's leading manufacturer solely dedicated to the fall protection market, has announced the launch of their NEW Door/Window Jamb Anchor.

The Door/Window Jamb Anchor was developed to provide a non penetrating anchor point for a personal fall arrest system. Utilising such common elements as doors or windows, this anchor is compressed against the door or window frame "jamming" itself between the two vertical sides. Best of all, there are no tools required to install this anchor.

The anchor point is not only ideal for use during initial residential or commercial construction, but is also ideal for post construction needs because it does not penetrate into anything. The anchor is installed in three easy steps, providing a safe fall arrest rated anchor point to attach your shock absorbing lanyard or self retracting lifeline.

"The Door/Window Jamb Anchor is an economical and non-intrusive fall protection system that is lightweight and easy to install," said Greg Peterson, Systems Manager for Capital Safety in Australia and New Zealand.

Weighing in at just over 6 kg the anchor is easily moved between jobs, installed, removed and stored. Combined with a harness, shock absorbing lanyard or self retracting lifeline, the anchor provides a quick and efficient fall protection and height safety system. The Window/Door Jamb Anchor is ideal for use in: residential and commercial construction, roof tops with door entrances, elevator shafts, wall openings, emergency egress and rescue.

For more information regarding DBI-SALA's NEW Door/Window Jamb Anchor call us on 1800 245 002 (AUS), 0800 212 505 (NZ) or visit www.capitalsafety.com.

Contact Name: Leonardo Di Coio
Title: Marketing Communications Manager
E-mail: ldicoio@capitalsafety.com.au

More from Fasteners & Hardware