Analyzer Software helps predict circuit breaker failures.
Press Release Summary: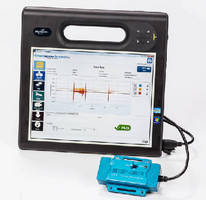 Used with external calibrated accelerometer that attaches magnetically to breaker under test, CBAnalyzer™ runs on Windows 7 tablet or PC to identify potential mechanical failures before they happen. Tool helps users avoid unplanned downtime and confirm arc-flash calculations based on trip times. Vibration data created by breaker operation is captured, displayed locally against previous tests, and analyzed via Web-based application to identify problems based on vibration signature and model.
---
Original Press Release:

Circuit Breaker Analyzer, Inc. Announces Circuit Breaker Analyzer Application for Windows 7 Tablets, PCs



Addison, Texas – Circuit Breaker Analyzer, Inc. is proud to introduce its Circuit Breaker Analyzer application (CBAnalyzer™) for Windows 7-compatible tablets and personal computers. The CBAnalyzer recently won Best Case Study and Most Interest in a New Product at the 2014 PowerTest conference hosted by the InterNational Electrical Testing Association (NETA).



Used in conjunction with an external calibrated accelerometer that attaches magnetically to the breaker under test, the Circuit Breaker Analyzer app runs on a tablet or PC to identify potential mechanical failures before they happen. The tool helps customers avoid unplanned downtime and confirm arc-flash calculations based on trip times without the need to modify existing equipment or remove them from service.



The CBAnalyzer also allows the user to operate the breaker in any sequence desired, including trip, charge, or close. The vibration data created by the breaker operation is captured, displayed locally against previous tests, and analyzed via a Web-based application to identify potential problems based on vibration signature and the model of the breaker under test. Data saved to the online accounts can be used for equipment management; trending; and further analysis options, including specialized issue diagnosis.



"This new application allows you to more easily and quickly identify mechanical failures before they happen," explains Finley Ledbetter, CEO and chief scientist of Group CBS. (Circuit Breaker Analyzer, Inc. is an affiliate company of Group CBS.) "Using this new application on Windows 7 devices, technicians can test all types and ratings of breakers, determine breaker opening and closing times, confirm arc-flash calculations and associated personal protective equipment (PPE) requirements, and increase in-service testing frequency to boost uptime."



With the CBAnalyzer Windows 7 tablet and PC application, users can compare two tests side by side to see how breaker performance has changed over time, detect bad vacuum bottles and other potential problems, print and read barcodes for asset management, and automatically record temperature settings. Other advanced features include the ability to view Fourier transforms of vibration signatures and viewing the vector signature of the vibration test. For more features and benefits of the new CBAnalyzer system, please contact your Circuit Breaker Analyzer representative or visit www.CircuitBreakerAnalyzer.com.



About Circuit Breaker Analyzer:

Circuit Breaker Analyzer, Inc. is an affiliated company of Group CBS. Headquartered in Addison, Texas, Group CBS has affiliated companies throughout the U.S. and in the U.K. that provide premier products and unparalleled capabilities and services to the industrial, utility, electrical distribution, and repair markets.





Contact:

Natalie Berg

Phone: 972-290-0074

Website: www.CircuitBreakerAnalyzer.com

Email: info@cbanalyzer.com





More from Electronic Components & Devices