Analyzer measures particles ranging from 50-6,000 microns.
Press Release Summary: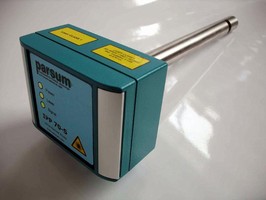 Based on spatial filter velocimetry theory, Model IPP70 in-line particle size analyzer provides measurement rate of up to 15,000 particles/sec. Probe is inserted directly into process line or vessel for monitoring batch and continuous processes. Featuring rugged outer design, instrument uses series of LEDs to detect contamination or material build up on probe. Analyzer is suited for monitoring of operations such as wet and dry granulation, coating, and spray drying.
---
Original Press Release:

Parsum IPP70 - a New Option from Malvern for In-Line Particle Size Analysis



The new Parsum IPP70 in-line particle size analyzer is a new addition to the Parsum range available from Malvern Instruments. The new probe extends the variety of applications for which Parsum systems provide ideal solutions for particle measurement.

Based on the theory of spatial filter velocimetry, the IPP70 measures particulate materials in the size range 50 to 6000 microns. Robust and easy to use, it is suitable for the continuous monitoring of a range of unit operations, including wet and dry granulation, coating and spray drying.

The IPP70 probe is inserted directly into a process line or vessel. It has been used successfully for monitoring both batch and continuous processes, for materials as diverse as polyethylene and washing powder. The instrument continuously tracks Dv(10), Dv(50) and Dv(90) making it ideal for endpoint detection, process control and process optimization applications.

The fibre optics at the heart of the IPP70 deliver consistent measurement at high particle loadings. Sensitivity to fluctuations in loading is low, making this an extremely robust solution. Highly accurate data is produced at a measurement rate up to 15000 particles per second.

A rugged outer design protects the IPP70 from the process environment, for proven high reliability. New software delivers user interfaces that are designed specifically to meet the needs of both the process and the research environment. A series of LEDs allows the detection of contamination or material build up on the probe without the need to remove the instrument from the process, so forewarning the operator of any developing problems. www.malvern.com

About Malvern Instruments
Malvern Instruments is a global company that develops, manufactures and markets advanced analytical systems used in characterizing a wide variety of materials, from bulk powders to the latest nanomaterials and delicate macromolecules. Innovative technologies and powerful software produce systems that deliver industrially relevant data enabling customers to make the connection between micro (eg particle size) and macro (bulk) material properties (rheology) and chemical composition (chemical imaging). Malvern laboratory, on-line and in-line solutions are proven in sectors from cement to pharmaceuticals and support the understanding, improvement and optimization of many industrial processes.

Headquartered in Malvern, UK, the company has subsidiary organizations in all major European markets, North America, China, Korea and Japan, key partnerships in India, a global distributor network and a number of applications laboratories around the world. www.malvern.com

USA contact:
Marisa Fraser,
Malvern Instruments Inc
10 Southville Road,
Southborough, MA 01772, USA
Tel: +1 508 480 0200;
Fax: +1 508 460 9692
marisa.fraser@malvern.com

Please send sales enquiries to:
Alison Vines,
Malvern Instruments Ltd
Enigma Business Park,
Grovewood Road,
Malvern, Worcestershire WR14 1XZ UK
Tel: +44 (0) 1684 892456;
Fax: +44 (0) 1684 892789
salesinfo@malvern.com

Related