Analyzer detects hydrogen sulfide from 0-100 ppm.
Press Release Summary: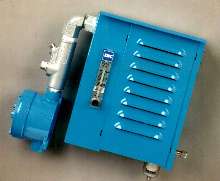 Model 4400 In-Stream Analyzer continuously verifies Hydrogen Sulfide content of natural gas streams to help guard against corrosive effects of H
2
S on compressors, pipelines, and process equipment. There are no tapes to replace, no conditioning solutions, no mechanical stream blenders to calibrate, and no hazardous material to dispose. Calibration requires only external application of span gas and one-person adjustment.
---
Original Press Release:

In-Stream Hydrogen Sulfide Analyzer


January 26, 2004 -- The Model 4400 In-Stream Hydrogen Sulfide Analyzer is used to continuously verify the Hydrogen Sulfide content of a natural gas stream. The Model 4400 helps the operator keep H2S levels in natural gas collection lines at acceptable levels to help guard against the corrosive effects of H2S on compressors, pipelines and process equipment. It is intended for continuous monitoring prior to the addition of odorants to the gas. The Model 4400 can detect H2S in the range of 0-100 PPM.

The Sierra Monitor Model 4400 provides the user with a low-cost, easy-to-use solution to effective monitoring of natural gas streams. There is minimal maintenance with the Model 4400
with no tapes to replace, no conditioning solutions, no mechanical stream blenders to calibrate, and no hazardous material to dispose. Calibration is easy with external application of span gas and simple one-person adjustment.

About Sierra Monitor Corporation
Sierra Monitor Corporation has be a manufacturer of ambient hazardous gas monitoring systems for over 23 years. With over 14,000 installations of fixed gas monitoring systems and access to the world's best gas sensor technologies, Sierra Monitor is a leader in hazardous gas detection systems.

For further information contact Stephen R. Ferree, Vice President of Marketing, Sierra Monitor Corporation, 1991 Tarob Court, Milpitas, CA 95035, 408-262-6611, toll free: 800-727-4377, EMail: sferree@sierramonitor.com


Related