Analytic Systems Signs 4 Year Supply Agreement with SRC, Inc., for AN/TPQ-49 System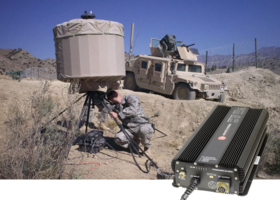 Dec. 18, 2018 - Delta, BC, Canada - Analytic Systems recently signed a 4-year supply agreement with SRC, Inc., in support of their AN/TPQ-49 lightweight counter-mortar radar systems.
Analytic Systems will be providing their PWS800MW-26.0SRC power supply for SRC's AN/TPQ-49 radar in the field. This power supply provides 800 watts of precision power at 26 VDC from a 110 or 220 VAC source. The single-board design is ultra-quiet (designed to meet MILSTD461F) and features PWM control. Switch-mode technology coupled with IGBT switching transistors allows for maximum efficiency and reliability. This innovative design features a waterproof IP66 extrusion, wide operating temperature range, and military shock and vibration protection for operation in extreme environments.
SRC, Inc., is an independent, not-for-profit research and development company that develops solutions for customers in the defense, environment and intelligence industries. SRC's AN/TPQ-49 counterfire radars provide early warning for incoming rocket, artillery and mortar (RAM) fire and weapon locating capabilities.
Analytic Systems is proud to be a partner with SRC, Inc., on this project providing safety to our soldiers stationed around the world. Analytic Systems is committed to innovative and cutting edge technology in the design and development of Military DC/DC Converters, Inverters, Battery Chargers and Power Supplies. Clients include: AAI Textron Systems, BAE, Boeing, Canadian Forces, Northrop Grumman, General Dynamics, Raytheon, Lockheed Martin, Navistar, US Marine Corps, US Navy, US Army, UEC Electronics, Seastar Solutions, Weatherhaven and Zodiac Hurricane.
For further information, contact:
info@analyticsystems.com or call 1-800-668-3884 or 1-604-946-9981
More from Architectural & Civil Engineering Products