Analog Video Decoder/Encoder for ADAS improves automotive safety.
Press Release Summary: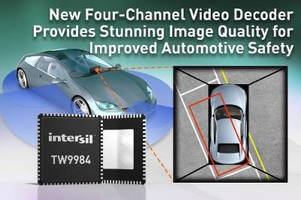 Able to replace up to 9 discrete components with one 10 x 10 mm WQFN chip, AEC-Q100 qualified TW9984 enables generation of 360° surround images for advanced driver assistance systems (ADAS). Integration of 4 NTSC/PAL analog video decoders with 10-bit ADCs supports 4 analog camera inputs simultaneously. For system designer, flexible digital output interface facilitates sending of images to processor for combination of 4 images into unified around-view image.
---
Original Press Release:

Intersil's New Four-Channel Video Decoder Provides Stunning Image Quality for Improved Automotive Safety



Highly integrated TW9984 raises the bar on 360-degree surround image quality in advanced driver assistance systems



MILPITAS, Calif. – Intersil Corporation (NASDAQ: ISIL), a leading provider of innovative power management and precision analog solutions, today announced the TW9984 four-channel analog video decoder with built-in analog video encoder for around-view parking assist applications, providing improved safety for drivers and pedestrians. The TW9984 is based on Intersil's market leading video decoder technology and replaces up to nine discrete components with a single chip. It delivers the industry's best analog decoding performance resulting in excellent picture quality to generate 360-degree surround images for advanced driver assistance systems (ADAS).



ADAS is a rapidly growing market segment, driven largely by safety requirements in all light passenger vehicles. Most new vehicles today have options including around-view camera systems for parking assistance and blind spot detection/elimination. The National Highway Traffic Safety Administration (NHTSA) estimates that rearview cameras can reduce back-over fatalities by more than 50 percent. Accordingly, automotive image sensor penetration in vehicles is increasing, and ABI Research estimates shipments will reach 197 million by 2020.



The Intersil TW9984 analog video decoder and encoder provides motorists with detailed, high-quality video, enhancing their ability to see objects not just behind the car but around the entire vehicle. An around-view monitor system, also referred to as a surround view monitor, processes video from four cameras and then combines the four images into a single birds-eye, top-down view as if a camera was stationed directly above the vehicle. The monitor helps drivers visually confirm the vehicle's position relative to surrounding objects for easy maneuvering and parking.



The TW9984 integrates four high quality NTSC/PAL analog video decoders with 10-bit analog-to-digital converters (ADCs) to support four analog camera inputs simultaneously. A flexible digital output interface makes it easy for the system designer to send the images to a processor that can then combine the four images into a single unified around-view image. The on-chip analog video encoder provides the ability to transmit the combined video as a standard analog composite signal to the head unit display. The TW9984 also incorporates analog anti-aliasing filters on each channel input to further reduce component count. The high level of integration helps to simplify the system design and minimize the solution footprint to preserve critical board space.



"Intersil is a leader in multi-channel video and is at the forefront of ADAS around-view camera applications," said Philip Chesley, senior vice president of Precision Products at Intersil. "The decoder's innovative architecture and high level of integration enables an ultra-clear image to increase driver and pedestrian safety, as well as avoid vehicle damage."



Key Features and Specifications



--  Integrates four NTSC/PAL analog video decoders and 10-bit ADCs with differential, pseudo differential and single-ended inputs

--  Integrates one analog video encoder to re-encode video to CVBS format

--  Integrates programmable automotive short diagnostics -- short-to-battery and short-to-ground detection -- on each differential input channel

--  Supports 108MHz time multiplexed ITU-R BT.656 format to output four channels over a single 8-bit data bus

--  Integrated PLL generates the 108MHz output while using a lower cost 27MHz crystal oscillator on the board

--  Consumes approximately 100mW per decoder channel, which is up to 20 percent less per channel than equivalent solutions

--  AEC-Q100 qualified



Availability

The TW9984 four-channel analog video decoder and encoder is available now in a 10mm x 10mm, WQFN package and is priced at $5.00 USD in 1k quantities. The TW9984AT-NA1-EVAL evaluation board is offered with a user manual, schematics and firmware. For more information on the TW9984 and evaluation board, please visit: www.intersil.com/products/TW9984.



The TW9984 can be combined with the ISL78302 dual LDO, ISL78322 synchronous buck regulator and the ISL78228 dual synchronous step-down DC/DC buck regulator to manage power rails for the TW9984, memory, DSP or FPGA in an around-view ADAS application.



About Intersil

Intersil Corporation is a leading provider of innovative power management and precision analog solutions. The company's products form the building blocks of increasingly intelligent, mobile and power hungry electronics, enabling advances in power management to improve efficiency and extend battery life. With a deep portfolio of intellectual property and a rich history of design and process innovation, Intersil is the trusted partner to leading companies in some of the world's largest markets, including industrial and infrastructure, mobile computing, automotive and aerospace. For more information about Intersil, visit our website at www.intersil.com.



Intersil and the Intersil logo are trademarks or registered trademarks of Intersil Corporation. All other brands, product names and marks are or may be trademarks or registered trademarks used to identify products or services of their respective owners.



Join the Conversation

Twitter

Facebook

LinkedIn



CONTACT:

Mark Alden

Intersil Corporation

(408) 546-3402

malden@intersil.com



Web Site: http://www.intersil.com



More from Electronic Components & Devices