Analog-to-Digital Converter is cascadable to 32 channels.
Press Release Summary: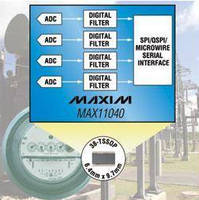 Housed in 38-pin TSSOP package, 4-channel 24-bit MAX11040 provides compensation for phase shift caused by resistor dividers, transformers, or filters at analog inputs through programmable delay of 0-333 µsec. Eight units can be daisy-chained to provide sampling capacity of up to 32 channels. With minimum SINAD of 90 dB and SFDR of 91 dB, ADC is suited for power-grid-protection equipment, as well as other applications that require conversions of simultaneously sampled channels between 0.25-64 kS/sec.
---
Original Press Release:

4-Channel, Simultaneous-Sampling 24-Bit ADC is Cascadable to 32 Channels for Unprecedented Simplicity in System Design



24-bit ADC simultaneously samples 4 channels, cascades to 32 channels.

SUNNYVALE, CA-June 25, 2009-Maxim Integrated Products (NASDAQ: MXIM) introduces the MAX11040 4-channel, 24-bit simultaneous-sampling ADC. Developed to enable unprecedented simplicity in system design, up to eight MAX11040 devices can be daisy-chained to provide a sampling capacity of up to 32 channels. The MAX11040 achieves this high capacity and scalability with a unique cascadable SPI(TM)/QSPI(TM)/MICROWIRE(TM) interface, which eliminates the complexity of using individual chip-select inputs to control each ADC. Because all eight MAX11040 devices can be accessed using only a single chip-select input, from the host processor's point of view, the control logic remains the same regardless if there are only 4 or as many as 32 channels.

The MAX11040 uniquely provides compensation for phase shifts caused by resistor dividers, transformers, or filters at the analog inputs through a programmable delay of 0 to 333µs. Together with a minimum of 90dB of SINAD and 91dB of SFDR, these features make the MAX11040 ideal for industrial power-grid-protection equipment, as well as medical EKG/EEG equipment and other applications that require accurate conversions of simultaneously sampled channels between 0.25ksps and 64ksps.

Additionally, overvoltage protection on the analog inputs protects the MAX11040 from voltages as large as ±6V when referenced to the device's analog ground, thus simplifying design and reducing cost.

The MAX11040 is available in a lead-free, 38-pin TSSOP package. Prices start at $13.45 (1000-up, FOB USA).

Maxim Integrated Products is a publicly traded company that designs, manufactures, and sells high-performance semiconductor products. The Company reported revenue in excess of $2 billion for fiscal 2008. Maxim was founded over 25 years ago with the mission to deliver innovative analog and mixed-signal engineering solutions that add value to its customers' products. To date, it has developed over 6000 products serving the industrial, communications, consumer, and computing markets. For more information, go to www.maxim-ic.com.

Customer Service: 1-800-998-8800

More from Machinery & Machining Tools