Analog-to-Digital Converter achieves 4 MS/sec.
Press Release Summary: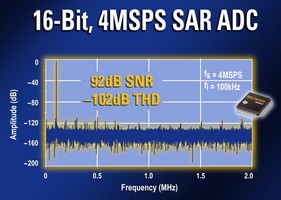 Featuring fully differential input with pseudo bipolar input range of -4 to +4 V, SAR Model ADS8422 includes either full 16-bit interface or two 8-bit option modes so data can be read in cycles if necessary. Device provides 92 db signal-to-noise ratio and -102 dB total harmonic distortion. Operating over industrial temperature range of -40 to +85°C, converter is suited for medical imaging, test and measurement, industrial automation, and scientific instrumentation.
---
Original Press Release:

TI Introduces Industry's Fastest 16-Bit SAR ADC at 4MSPS



Data Converter Offers 33 Percent Faster Speed without Compromising Precision

DALLAS (June 26, 2006) - Texas Instruments Incorporated (TI) (NYSE: TXN) today announced the industry's fastest 16-bit successive approximation register (SAR) analog-to-digital converter (ADC) which is 33 percent faster than the nearest competitive device. The ADS8422 achieves 4MSPS without sacrificing AC or DC performance, making it ideal for a wide range of demanding applications such as medical imaging, test and measurement, industrial automation and scientific instrumentation. (See www.ti.com/sc06119.)

"The ADS8422 combines best-in-class speed with superior precision specifications, enabling customers to push the boundaries in their advanced applications," said Art George, senior vice president of TI's high-performance analog business. "Texas Instruments continues to develop breakthrough data converter solutions with leading-edge resolution, speed and performance."

The ADS8422 features excellent AC and DC specifications, such as 92dB signal-to-noise ratio (SNR), -102dB total harmonic distortion (THD), 2LSB integral nonlinearity (INL), +1.5/-1LSB differential nonlinearity (DNL), +/-0.5mV offset voltage over temperature, less than 0.2ppm/C offset drift, +/-0.1 percent gain error and 2ppm/C gain drift.

The device has a fully differential input with pseudo bipolar input range (-4V to +4V) and includes either a full 16-bit interface or two 8-bit option modes so data can be read in cycles, if necessary. Other features includes an internal 4.096V reference and reference buffer, single-supply operation and guaranteed operation over the industrial temperature range of -40C to +85C.

TI provides customers with an advanced signal chain solution for high-speed, high-precision applications including an extensive portfolio of wideband amplifiers to drive the analog inputs of the ADS8422, such as the THS4031, THS4131 and OPA2613. The ADS8422 includes a separate I/O supply to simplify the digital interface, making it well suited to work with TI's high-performance TMS320(TM) DSP platform.

The ADS8422 successfully complements several recently released best-in-class ADCs, such as the industry's fastest 16-bit delta-sigma ADC (ADS1610, 10MSPS) and the industry's fastest 14-bit pipeline converter (ADS5546, 190MSPS).

Availability and Packaging
The ADS8422 is sampling now, with volume production scheduled for 3Q 2006. The device is available in a 48-pin TQFP package and is priced at $31.95 in 1,000-piece quantities (suggested resale pricing). Evaluation modules (EVMs) are also available.

TI offers analog engineers a wide-ranging support infrastructure that includes training and seminars, design tools and utilities, technical documentation, evaluation modules, an online KnowledgeBase, a product information hotline and a comprehensive offering of samples that ship within 24 hours of request. For more information on TI's complete analog design support, and to download the latest Amplifier & Data Converter Selection Guide, visit www.ti.com/analog.

About Texas Instruments
Texas Instruments Incorporated provides innovative DSP and analog technologies to meet our customers' real world signal processing requirements. In additional to Semiconductor, the company includes the Educational & Productivity Solutions business. TI is headquartered in Dallas, Texas, and has manufacturing, design or sales operations in more than 25 countries.

Texas Instruments is traded on the New York Stock Exchange under the symbol TXN. More information is located on the World Wide Web at www.ti.com.

More from Material Processing