Analog-to-Digital Converter achieves 101 dB SNR performance.
Press Release Summary: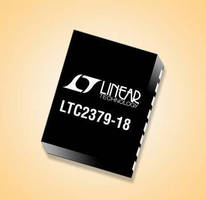 Housed in 3 x 4 mm DFN and MSOP-16 packages, Model LTC2379-18 operates from 2.5 V supply and consumes 18 mW. Serial 18-bit, 1.6 Msps SAR ADC achieves 101 dB SNR and -118 dB THD while supporting fully differential ±5 V input range. Digital gain compression feature eliminates need for negative supply on ADC driver. Featuring max INL of ±2 LSB with no missing codes and guaranteed specifications over -40 to 125°C temperature range, device is suited for medical, industrial, and automotive applications.
---
Original Press Release:

18-Bit, 1.6Msps, Serial SAR ADC Achieves Industry-Leading 101dB SNR Performance



MILPITAS, CA - Linear Technology Corporation introduces the LTC2379-18 , a serial 18-bit, 1.6Msps SAR analog to digital converter (ADC) that achieves an unrivaled 101dB SNR and -118dB THD while supporting a fully differential ±5V input range. This breakthrough performance establishes Linear's position as a leader in high performance ADCs. The LTC2379-18 features a maximum INL of ±2LSB with no missing codes and guaranteed specifications over the -40°C to 125°C temperature range. Operating from a 2.5V supply, the LTC2379 18 consumes only 18mW and is available in small 3mm x 4mm DFN and MSOP-16 packages. The LTC2379-18's high SNR, fast throughput and low power dissipation make it ideal for high performance medical, industrial and automotive applications.

Complementing the LTC2379-18 is the pin- and software-compatible 16-bit, 2Msps LTC2380-16. The LTC2380-16 achieves an impressive 96dB SNR and ±0.5LSB maximum INL. The LTC2379-18 and LTC2380-16 are the first in a family of 18-/16-bit high performance SAR ADCs with speeds ranging from 250ksps up to 2Msps. These devices offer a revolutionary new digital gain compression feature that eliminates the need for a negative supply on the ADC driver, dramatically lowering the total power consumption of the signal chain. The devices' shutdown mode further reduces power dissipation to 1.25µW when idle. The true no-latency operation enables accurate one-shot measurements even after lengthy idle periods with no minimum sample rate required.

The explicit Busy and Chain pins, along with a user-friendly SPI interface, support I/O voltages from 1.8V to 5V, simplify digital timing and minimize external component count.

The LTC2379-18 and LTC2380-16 are now available, priced at $29.95 each for the LTC2379-18 and $24.50 each for the LTC2380-16 in 1,000 piece quantities. To achieve uncompromised AC performance, we recommend the fast settling LT6350 ADC driver for single-ended to differential conversion of input signals. We also recommend the LTC6655, a precision external reference with high accuracy, low noise and low power. The DC1783A, an integrated demo board featuring the LT6350 ADC driver and LTC6655 reference, is available at www.linear.com or via a local Linear Technology sales office. For more information, visit www.linear.com/2379.

Summary of Features: LTC2379-18

o 1.6Msps Throughput Rate

o Maximum Power Point Control for High Impedance Sources

o Guaranteed 18-Bit No Missing Codes

o Low Power: 18mW at 1.6Msps, 18µW at 1.6ksps

o 101dB SNR (typ) at fIN = 2kHz

o Guaranteed Operation to 125°C

o 2.5V Supply

o Fully Differential Input Range ±VREF

o VREF Input Range from 2.5V to 5.1V

o No Pipeline Delay, No Cycle Latency

o 1.8V to 5V I/O Voltages

o SPI-Compatible Serial I/O with Daisy-Chain Mode

o Internal Conversion Clock

o 16-pin MSOP and 4mm x 3mm DFN Packages

About Linear Technology

Linear Technology Corporation, a member of the S&P 500, has been designing, manufacturing and marketing a broad line of high performance analog integrated circuits for major companies worldwide for three decades. The Company's products provide an essential bridge between our analog world and the digital electronics in communications, networking, industrial, automotive, computer, medical, instrumentation, consumer, and military and aerospace systems. Linear Technology produces power management, data conversion, signal conditioning, RF and interface ICs, and µModule® subsystems.

LT, LTC, LTM, µModule and are registered trademarks of Linear Technology Corp. All other trademarks are the property of their respective owners.


More from Food Processing & Preparation