Analog Switches suit portables and instrumentation.
Press Release Summary: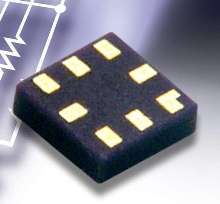 Available in normally open and normally closed versions, Series FSA125x dual SPST switches provide low On Resistance of 0.95 ohm, low leakage current of 2 nA, and low charge injection of 20 pC to minimize offset error in signal sample/hold applications. Units operate from 1.65-5.5 V with 5.5 kV ESD performance. Total Harmonic Distortion of 0.002% makes them suited for portable audio signal routing. Switches are housed in MicroPak(TM) leadless packaging.
---
Original Press Release:

Fairchild Analog Switches Target Ultra-Portables, Medical and Industrial Instrumentation


Low-voltage dual SPST devices provide low distortion, high ESD and small packaging

South Portland, Maine-March 3, 2004-Fairchild Semiconductor (NYSE: FCS), the fastest growing supplier of analog switch solutions(1), announces the immediate availability of its new FSA125x series of high-performance analog switches for applications such as cell phones, portable medical electronics and industrial instrumentation. Available in normally open (NO) and normally closed (NC) versions, these devices provide superior performance such as low leakage current, minimal charge injection and exceptional ESD protection. These features are important for instrumentation to reduce the static offset error while providing highly reliable operation. FSA125x switches are housed in compact form factor MicroPak(TM) (leadless) packaging to optimize design flexibility in response to the continuing miniaturization trend in portable equipment.

The three products in the series are the FSA1256 (dual SPST NO), FSA1257 (dual SPST NC) and FSA 1258 (dual SPST NO/NC). These devices provide:
o Ultra low On Resistance (RON) of 0.95 ohm typical for reduced power consumption;
o Low leakage current (2nA) and low charge injection (20pC) to minimize the offset error in signal sample/hold applications;
o Broad 1.65V to 5.5V operating voltage range;
o Low Total Harmonic Distortion (THD) of 0.002%, ideal for portable audio signal routing; and
o 5.5KV (HBM) ESD performance.

"Fairchild's new dual analog switches are ideal for applications such as portable audio, USB, I2C signal isolation and sample/hold circuitry," says Gerald Johnston, Fairchild product manager for analog switches. "These low-ohm dual analog switches broaden Fairchild's portfolio of products targeting portable applications. This portfolio of products includes audio amplifiers, LED drivers and LEDs for backlighting, supervisory products such as temperature sensors and reset generator circuits, and a variety of DC/DC conversion products including LDOs and MOSFETs," he said.

All three products are available in chip-scale MicroPak (L8X suffix) or in soon-to-be-available US8 (K8X suffix) packaging. These lead-free (Pb-free) products meet or exceed the requirements of the joint IPC/JEDEC standard J-STD-020B and are compliant with European Union requirements that will take effect in 2005.

Price: $0.45 each (1000 pcs) for all configurations in either US8 or MicroPak
Availability: Now
Delivery: 4 weeks ARO

For information about these products, go to:
FSA1256: fairchildsemi.com/pf/FS/FSA1256.html
FSA1257: www.fairchildsemi.com/pf/FS/FSA1257.html
FSA1258: www.fairchildsemi.com/pf/FS/FSA1258.html

For information on other Fairchild products, design tools and sales contacts, please visit www.fairchildsemi.com.

About Fairchild Semiconductor
Fairchild Semiconductor (NYSE: FCS) is a leading global supplier of high-performance products for multiple end markets. With a focus on developing leading-edge power and interface solutions to enable the electronics of today and tomorrow, Fairchild's components are used in computing, communications, consumer, industrial, and automotive applications. Fairchild's 10,000 employees design, manufacture and market power, analog & mixed signal, interface, logic, and optoelectronics products from its headquarters in South Portland, Maine, USA and numerous locations around the world. Please contact us on the web at: www.fairchildsemi.com.

(1) Source: Selantek

Fairchild Contact:
Louise Merriman, MarCom Manager
Interface & Logic Products
(207) 775-8761 o Fax: (207) 775-8745
louise.merriman@fairchildsemi.com

More from Fasteners & Hardware