Analog Switches have less than 0.002% THD.
Press Release Summary: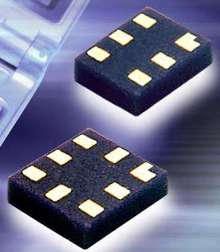 Switches offer ON Resistance from 1.0-1.35 ohms which preserves signal integrity and lowers drive necessary to support audio and signal processing. Operating voltage ranges from 1.65-5.5 V, Total Harmonic Distortion is 0.002% typ, and RON flatness is 0.2 ohm typ. Offered in SPDT, SPST/NO, and SPST/NC configurations, they accommodate overcharges of up to 4.6 V, have greater than 350 MHz bandwidth, and provide ESD protection better than 7,500 V (HBM).
---
Original Press Release:

Fairchild Introduces the Industry's Smallest Low-Ohmic Analog Switches


Designed with less than 0.002% Total Harmonic Distortion (THD) for audio fidelity

South Portland, Maine-October 28, 2003-Fairchild Semiconductor (NYSE: FCS), the fastest growing supplier of analog switch solutions (source: Selantek), announces three new low-Ohmic analog switch products-the FSA4157 Single Pole/Double Throw (SPDT), FSA1156 Normally Open Single Pole/Single Throw (SPST NO) and the FSA1157 Normally Closed Single Pole/Single Throw (SPST NC) switches. The devices' low ON Resistance (RON) preserves signal integrity and lowers the drive necessary to support audio and signal processing applications. Available in chip-scale MicroPakTM packaging, all products offer greater than 65% space savings over traditional SC70 and SOT-23 packages, as well as:

o Low ON Resistance (RON)-maximum of 1.0 to 1.35 Ohms

o Broad operating voltage range-1.65 to 5.5V

o Low THD-0.002% typical

o Low RON Flatness-0.2 Ohm typical

By design, Fairchild's analog switches incorporate features that are important to a wide range of customers and applications. These universal switches make selection simpler, reduce qualification and inventory costs, and provide superior performance for easy re-use in system upgrades. The wide 1.65-5.5V operating range of these devices provides the added benefit of protecting cell phone batteries from damage caused by overcharges. The higher operating voltage of the Fairchild switches enables them to easily accommodate overcharges of up to 4.6V, which typical 3.3V-rated analog switches cannot do. The greater than 350MHz bandwidth of the Fairchild devices supports high-speed analog and digital signal routing in low-voltage applications, while providing industry-leading ESD protection of better than 7500V (HBM).

"The extremely low Total Harmonic Distortion ensures that the signal integrity is not degraded by the switch, preserving the quality of the audio signal. Coupled with flat RON characteristics and small packaging, these switches offer designers a real value advantage in space-constrained portable applications," says Jeff Ju, applications engineer for analog switches.

The low-Ohmic analog switches add to Fairchild's portfolio of products targeting portable applications. These products include audio amplifiers, LED drivers and LEDs for backlighting, supervisory products such as temperature sensors and reset generator circuits, and DC/DC conversion products such as DC/DC converters, LDOs and MOSFETs.

These lead-free (Pb-free) products meet or exceed the requirements of the joint IPC/JEDEC standard J-STD-020B and are compliant with the European Union requirements, which will take effect in 2005.

Price:

FSA4157 $0.45 each (1000 pcs) in 6-lead SC70 or Chip-scale MicroPak

FSA1156 $0.38 each (1000 pcs) in 6-lead SC70 or Chip-scale MicroPak

FSA1157 $0.38 each (1000 pcs) in 6-lead SC70 or Chip-scale MicroPak

Availability: Now

Delivery: 4 weeks ARO

For information about these products, go to:

FSA4157: www.fairchildsemi.com/pf/FS/FSA4157.html

FSA1156: www.fairchildsemi.com/pf/FS/FSA1156.html

FSA1157: www.fairchildsemi.com/pf/FS/FSA1157.html

For information on other Fairchild products, design tools and sales contacts, please visit www.fairchildsemi.com

About Fairchild Semiconductor:

Fairchild Semiconductor (NYSE: FCS) is a leading global supplier of high performance products for multiple end markets. With a focus on developing leading edge power and interface solutions to enable the electronics of today and tomorrow, Fairchild's components are used in computing, communications, consumer, industrial and automotive applications. Fairchild's 10,000 employees design, manufacture and market power, analog & mixed signal, interface, logic, and optoelectronics products from its headquarters in South Portland, Maine, USA and numerous locations around the world. Please contact us on the web at www.fairchildsemi.com.

Fairchild Contact:
Louise Merriman, MarkCom Manager
Interface & Logic Products
(207) 775-8761 o Fax: (207) 775-8745
louise.merriman@fairchildsemi.com

More from Agricultural & Farming Products