Analog Switch replaces two SPDT switches.
Press Release Summary: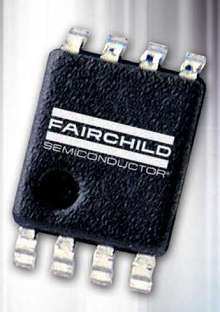 Model FSA3357 single pole/triple throw CMOS analog switch features R
DS(on)
of 6 Ohms, resulting in minimal signal attenuation. Total harmonic distortion of 0.01% coupled with 60 dB crosstalk ensures signal integrity. Wide bandwidth of 250 MHz and rail-to-rail signal handling guarantees clip-free transfer of analog and digital signals. V
CC
range of 1.65-5.5 V makes device suitable for battery applications. Unit comes in US8 packaging.
---
Original Press Release:

Fairchild Introduces Industry's First Single Pole/Triple Throw (SP3T) Analog Switch; FSA3357 Replaces Two SPDT Switches, Comes in US8 Package


South Portland, Maine-January 14, 2003-Fairchild Semiconductor International (NYSE: FCS) announces a unique innovation-the industry's only single pole/triple throw (SP3T) CMOS analog switch. The revolutionary new FSA3357 device provides significant benefits for designers of handheld devices, mobile phones, MP3 players, PDAs, notebooks and other portable electronics devices. Replacing two (in series) single pole/double throw (SPDT) components with a single 3:1 mux FSA3357 device lowers part count by 50%, provides superior utilization of PCB real estate, preserves signal integrity and reduces equivalent component pick-and-place operations by half. Available in US8 packaging, the FSA3357 SP3T analog switch provides smaller size and better performance than the dual 2:1 mux devices required for equivalent functionality.

The high-performance FSA3357 SP3T Analog Switch features an RDS(on) of only 6 Ohms resulting in minimal signal attenuation. The device's 0.01% total harmonic distortion (THD), coupled with its --60dB crosstalk characteristic, ensures signal integrity. Its wide bandwidth (250MHz) and rail-to-rail signal handling guarantee extremely fast, clip-free transfer of analog and digital signals.

A wide VCC range of 1.65V to 5.5V makes the FSA3357 device ideal for battery applications. The FSA3357 SP3T device is the latest addition to Fairchild's analog switch family featuring ultra-small package devices in SC70, SOT23, leadless MicroPak(TM) and US8 form factors. Fairchild offers the industry's best combination of device functionality, packaging options and pricing.

The FSA3357 adds to Fairchild's portfolio of products targeted at portable applications. These products include audio amplifiers, LEDs for backlighting, supervisory products such as temperature sensors and reset generator circuits, DC/DC conversion products such as DC/DC converters, LDOs and MOSFETs, and TinyLogic®.

Price: $0.51 each in quantities of 1,000
Availability: Now
Delivery: 4 weeks ARO

For more information, contact Fairchild Semiconductor Customer Response Group at (888) 522-5372, fax (972) 910-8036 or visit Fairchild's website at www.fairchildsemi.com.

About Fairchild Semiconductor

Fairchild Semiconductor International (NYSE: FCS) is a leading global supplier of high-performance products for multiple end markets. With a focus on developing leading-edge power and interface solutions to enable the electronics of today and tomorrow, Fairchild's components are used in computing, communications, consumer, industrial, and automotive applications. Fairchild's 10,000 employees design, manufacture and market power, analog & mixed signal, interface, logic, and optoelectronics products from its headquarters in South Portland, Maine, USA and numerous locations around the world. Please contact us on the web at: www.fairchildsemi.com.

More from Sensors, Monitors & Transducers