Analog Signal Conditioners offer 3-port isolation.
Press Release Summary: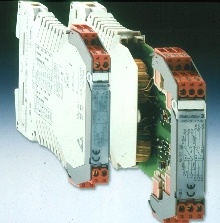 WAVEANALOG DC/DC modules output standardized signals, including 0 to 20 mA, 4 to 20 mA and 0 to 10 V. Circuit board simply plugs into header and is then inserted into rail-mounted enclosure. Screw-type and tension-clamp connections are available. Units arranged side-by-side can have power and ground connections jumpered to adjacent modules, reducing wiring connections. Polycarbonate and PC-thermoplastic components have UL94 flammability rating of V2.
---
Original Press Release:
Weidmuller adds More Analog Signal Conditioners to Further Expand the WAVESERIES Line of Electronic Interface Products

CHICAGO (March 18, 2002) - For an even more comprehensive offering of its WAVESERIES line of electronic interface products, Weidmuller is adding more analog functions for signal isolation, conversion, and monitoring.

All of the newest additions have three-port isolation. These signal conditioners output standardized signals: 0...20 mA, 4...20 mA and 0...10 V. The modules are offered with either screw-type or tension-clamp connections, ensuring maximum wiring
flexibility across a broad spectrum of industrial automation applications.

WAVEANALOG DC/DC signal conditioner products are available in housing widths of 12.5 mm and 17.5 mm. Compared to conventional housings, WAVESERIES modules require less installation time-the circuit board, equipped with all of the necessary components for operation and connection, is simply plugged into the header.
The circuit board and header are then inserted into the rail-mounted enclosure housing as a single unit, locking into place. Assembly and disassembly can be performed without tools, a major advantage for repair and maintenance personnel.

The WAVEANALOG also offers plug-in cross-connection capability.
WAVEANALOG DC/DC signal conditioners that are arranged side-by-side can have power and ground connections jumpered to adjacent modules-reducing the number of wiring connections and adding even greater flexibility in solving application needs.

WAVESERIES components are constructed of polycarbonate and PC
thermoplastics, with UL94 flammability rating of V2. Polyamide insulating material offers outstanding electrical, mechanical, chemical, and other properties at high operating temperatures.

List prices for the WAVEANALOG DC/DC signal conditioners start at $100.00.

Weidmuller, Inc. is the U.S. operation of Germany-based Weidmuller Interface GmbH and Company-the world's leading supplier of electrical connection technology such as terminal blocks, printed circuit board terminals and connectors, relay sockets and plugs, and power supplies. Weidmuller has approximately 3,400 employees worldwide, with 70 sales organizations or offices in more than 60 countries. Weidmuller, Inc. was established in Richmond, Virginia in 1975 and currently employs approximately 130 people in its U.S. operations.

For more information about Weidmuller, Inc. and its products, please contact:

Marketing Communications Manager
Weidmuller, Inc.
821 Southlake Boulevard
Richmond, Virginia 23236
Phone (800) 849-9343
Fax (804) 794-0252
Email info@weidmuller.com
Website www.weidmuller.com
More from Agricultural & Farming Products