Analog Phase Shifters support frequency bands from 5-18 GHz.
Press Release Summary: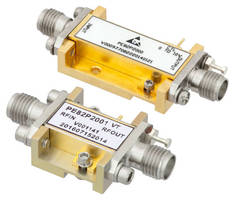 Used to control phase characteristics in processing of microwave signals, PE82P2000 and PE82P2001 can also be used as phase modulators to control modulating baseband signal. MIL-Spec compliant units come in rugged, hermetically sealed Kovar packages with gold-over-nickel plating. Respectively, PE82P2000 and PE82P2001 cover 5–18 GHz and 6–15 GHz with continuously variable and monotonic phase shift range of 0° to 400° typ and 7 dB insertion loss or 0° to 800° typ and 6 dB insertion loss.
---
Original Press Release:
Pasternack Releases Analog Phase Shifter Modules Supporting Frequency Bands Ranging from 5 GHz to 18 GHz
New PE82P2000 & PE82P2001 Analog Phase Shifters from Pasternack Feature Monotonic Phase Shift Range up to 800°

Irvine, CA - Pasternack, a leading manufacturer and supplier of RF, microwave and millimeter wave products, has introduced a new series of analog phase shifters that are used to control the phase characteristics in the processing of microwave signals and can also be used as phase modulators to control a modulating baseband signal.

These versatile analog phase shifters provide a continuously variable phase response that's controlled by a single voltage source that delivers almost unlimited resolution with monotonic performance.  The analog control feature is popular for communications applications, radar systems and test equipment.

The PE82P2000 covers 5 GHz to 18 GHz with a continuously variable and monotonic phase shift range of 0° to 400° typical and 7 dB insertion loss. The analog control voltage ranges from 0V to +10V and supports a modulation bandwidth of 50 MHz. The PE82P2001 covers 6 GHz to 15 GHz with a continuously variable and monotonic phase shift range of 0° to 800° typical and 6 dB insertion loss. The analog control voltage range is 0V to +5V and supports a modulation bandwidth of 50 MHz.

Both models are available in rugged Kovar packages that feature gold-over-nickel plating and are hermetically sealed.  These analog phase shifters are highly reliable and are guaranteed to meet MIL-STD environmental test conditions.  The versatile drop-in package designs are compact and support field replaceable SMA connectors for a coaxial interface, or the pin package can be integrated onto a printed circuit board assembly. 

"Designers can use these phase shifters to monotonically shift the phase characteristics in the processing of microwave signals with only a single variable voltage control," explains Tim Galla, Active Components Product Manager at Pasternack. "The rugged and compact package designs are hermetically sealed, MIL-Spec compliant and support operating temperatures of -55°C to +85°C."

These new analog phase shifters from Pasternack are in-stock and ready for immediate shipment. For detailed information on these products, please visit https://www.pasternack.com/pages/RF-Microwave-and-Millimeter-Wave-Products/analog-phase-shifters.html. For inquiries, Pasternack can be contacted at +1-949-261-1920.

About Pasternack
A leader in RF products since 1972, Pasternack is an ISO 9001:2008 certified manufacturer and supplier offering the industry's largest selection of active and passive RF, microwave and millimeter wave products available for same-day shipping.

Shaun Gameroz
Marketing Manager
(O) 949-267-9734 | (F) 949-261-5086
17802 Fitch | Irvine, CA 92614
shaun.gameroz@pasternack.com | www.pasternack.com
More from Architectural & Civil Engineering Products