Analog Output USB Devices are suited for DAQ industry.
Press Release Summary: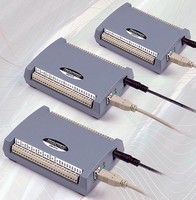 Compatible with USB 1.1 and 2.0 ports, 16-bit USB-3100 series integrates high-drive voltage outputs that eliminate need for external high-drive amplifiers. Each voltage output is capable of sinking/sourcing up to 40 mA of load current, and bidirectional synchronization pin lets users update DAC outputs simultaneously on multiple devices. Respectively, USB-3110, -3112, and -3114 are 4-, 8-, and 16-channel units with 8 DIO connections and one 32-bit event counter.
---
Original Press Release:

Measurement Computing Introduces Brand New Line of Low-Cost Analog Output Devices for USB



MIDDLEBORO, Mass.-March 27, 2006-Measurement Computing Corporation today announced the release of three low-cost, 16-bit high-drive analog output USB devices. These new products were expressly engineered to incorporate many user-suggested features that make the product line unique to the DAQ industry.

The USB-3110, USB-3112, and USB-3114 have integrated high-drive voltage outputs, eliminating the need for external high-drive amplifiers. The USB-3100 series' proprietary architecture virtually eliminates dead-band (unresponsive) codes. In addition, the product line is factory calibrated to be out-of-the-box ready for system deployment.

Bill Kennedy, MCC Vice President of Sales and Marketing, remarked, "Customers have enjoyed our low-cost USB multifunction DAQ devices. We are excited to offer the USB-3100 seriesf-a line of dedicated low-cost, high-drive analog output devices in the same convenient packaging. Not only were we able to fulfill our customers requirements for a low-cost analog output device, we were able to engineer additional features to save our valued customers further time and money. The USB-3100 series should be strongly considered for anyone performing PC control."

All products in the USB-3100 line are fully compatible with both USB 1.1 and USB 2.0 ports, and are supported under Microsoft® Windows® 2000 and XP operating systems. Each of the voltage outputs is capable of sinking/sourcing up to 40 mA (maximum) of load current. A bidirectional synchronization pin allows users to update the DAC outputs simultaneously on multiple devices.

The USB-3110 provides four channels of analog voltage output, eight digital I/O connections, and one 32-bit event counter. The USB-3112 has eight analog voltage outputs, and the USB-3114 has sixteen. All other features are the same.

At 5.0 inches wide, by 3.4 inches long, by 1.4 inch high, the USB-3100 series modules are just large enough to make connecting field wiring easy, yet small enough to fit on even the most crowded bench. These products ship with a USB cable, a 5-volt, 2-amp AC power adapter, and the following software:

- InstaCal(TM), an all-in-one installation, calibration, and test application. InstaCal makes setting up and testing the USB-3100 series devices as simple as a few mouse clicks.

- Universal Library(TM) and UL for LabVIEW(TM), powerful language interfaces that allow users to write programs in all of the popular programming languages using easy-to-understand, high-level command syntax.

Measurement Computing Corporation is the market leader in the design and manufacture of low-priced, computer-based, test and measurement hardware and software. These products include USB-based analog and digital I/O devices; Ethernet-based analog and digital I/O devices; analog and digital I/O boards, serial and GPIB interfaces for the USB, PCI, ISA, PCMCIA, and PC/104 buses, as well as RS-232/485 serial interfaces. The company, founded in 1989, markets its products throughout the world. Visit www.mccdaq.com for more information.

Click below to see a photo of the USB-3110, 3112, 3114 http://measurementcomputing.com/pr/usb-3100.html

Product                       Price                Status



USB-3110                     $399                 14 April 2006



USB-3112                     $449                 14 April 2006



USB-3114                     $599                 14 April 2006

Contact:
Dan Mandill
Marketing Coordinator
(508) 946-5100, x219
dan.mandill@mccdaq.com

More from Non-Industrial Products