Analog Output Modules plug into PCI port.
Press Release Summary: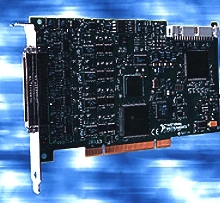 With 16-bit NI PCI-6731 and NI PCI-6733 analog output modules, engineers can control waveform amplitudes with higher resolution. Both modules deliver high-channel density, 1 MS/s per channel 16-bit analog waveform output, and two counter/timers. NI PCI-6731 has four output channels, and NI PCI-6733 has eight. Both come with NI-DAQ 6.9 driver software that works with NI LabVIEW, LabWindows/CVI, Microsoft Visual Basic, and Visual C++.
---
Original Press Release:
National Instruments Introduces Its Fastest 16-Bit Analog Output Modules for PCI

NEWS RELEASE -- March 26, 2002 -- National Instruments extends its high-speed data acquisition product line with the introduction of its fastest 16-bit analog output modules.

With the 16-bit NI PCI-6731 and NI PCI-6733 analog output modules, engineers and scientists can control waveform amplitudes with higher resolution at frequencies commonly associated with lower resolution products. The NI PCI-6731 and NI PCI-6733 modules are ideal for a variety of applications, such as stimulus-response testing of devices that require frequency excitation.

The modules deliver high-channel density with 1 MS/s per channel 16-bit analog waveform output. The NI PCI-6731 features four output channels, and the NI PCI-6733 features eight output channels. Both modules also feature two counter/timers and software-controlled, onboard timing signal routing for advanced applications. A Real-Time System Integration (RTSI) bus delivers synchronization with NI modular instrumentation, data acquisition, motion, and vision products so engineers and scientists can create custom measurement solutions.

The NI PCI-6731 and NI PCI-6733 analog output modules come with NI-DAQ 6.9 driver software, a powerful programming interface for use with numerous programming environments and languages, including NI LabVIEW and LabWindows/CVI, and Microsoft Visual Basic and Visual C++.

About NI
NI leverages commercial technologies, such as industry-standard computers and the Internet, to deliver customer-defined measurement and automation solutions. Headquartered in Austin, Texas, NI has more than 2,800 employees and direct sales offices in more than 35 countries. NI increases the productivity of engineers and scientists worldwide by delivering easy-to-integrate software and modular hardware. In 2001, the company sold products to more than 24,000 different companies in more than 60 countries around the world. For the past three consecutive years, FORTUNE magazine has named NI one of the 100 best companies to work for in America.

NI PCI-6731 priced at $1,295; E1,945; Y242,000
FNI PCI-6733 priced at $1,895; E2,895; Y353,000
Visit ni.com/measurements
11500 N Mopac Expwy, Austin, Texas, 78759-3504 or your local NI office
Tel: (800) 258-7022, Fax: (512) 683-9300
E-mail: info@ni.com

More from Thermal & Heating Equipment