Analog Output Module simulates voltage or thermocouple output.
Press Release Summary: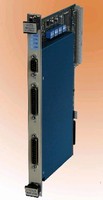 Providing 16-bit resolution over 10 output voltage ranges from ±25 mV to ±12.5 V, 16-channel Model V470 delivers user-programmed voltage outputs or thermocouple simulating outputs with automatic reference-junction temperature compensation. Featuring 1 kV isolation, each channel can be programmed independently to any voltage or thermocouple range, and can source up to 10 mA at FS. Single-width, 6U VME board includes 2 front-panel D25 connectors that interface with external devices.
---
Original Press Release:

Highland Technology Announced the Release of its New V470 Analog Output / Thermocouple Simulator



San Francisco, Calif., April 17, 2006 - - Highland Technology announced the release of its new V470 Analog Output / Thermocouple Simulator.

The 16-channel V470 VME Analog Output Module serves two primary applications. It provides outputs simulating J-, K-, E-, T-, R-, S-, B-, and N-type thermocouples with automatic reference-junction temperature compensation or it produces user-programmed high precision voltage outputs. The V470 has16-bit resolution over ten output voltage ranges from +/- 25mV to +/- 12.5V. Each channel can be programmed independently to any voltage or thermocouple range, can source up to 10mA at full scale, and has 1kV of isolation both from system ground and other channels.

The V470 includes lookup tables for all common thermocouple types, which enables users to write desired temperature directly to VME registers. In thermocouple simulation mode each channel can be associated independently with the on-board temperature sensor or with any of the four reference junction sensors located in the external field-wiring termination panels.

Any channel of the V470 may be switched to a front-panel D9 test connector for in-crate calibration checks without disturbing field wiring. An optional full built-in self test version is also available.

The V470 is a 6U single-width VME board. Two front-panel D25 connectors interface to external devices. Each connector provides eight floating differential outputs and connections for two 4-wire RTDs.

The V470 Analog Output/Thermocouple Simulation Module is available immediately. For further information, contact Highland Technology. www.HighlandTechnology.com, tel: 415-551-1700


More from Material Handling & Storage