Analog Oscilloscope incorporates 50 MHz frequency counter.
Press Release Summary: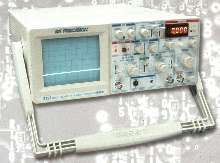 Benchtop Model 2121 provides dual-channel operation within DC to 30 MHz frequency bandwidth. Waveforms are displayed on 6 in. rectangular CRT. Unit offers AUTO/NORM triggered sweep operation with AC, TVH, TVV, and line coupling. It has calibrated 23-step time base with x10 magnifier. Since input of counter is coupled with either input channel of oscilloscope, counter uses same trigger level setting, allowing it to be used with complex waveforms.
---
Original Press Release:

B+K Precision® Introduces 30MHz Dual Channel Analog Oscilloscope with Frequency Counter


YORBA LINDA, CA...December 15, 2002 -- B&K Precision Corporation, one of the industry's leading suppliers of test and measurement products, today announced the addition of the Model 2121, a cost-effective 30MHz Dual Channel Analog Oscilloscope. This compact, versatile, easy to use benchtop unit incorporates a built-in 50MHz Frequency Counter and is ideal for use in education, design, maintenance, manufacturing and quality control. With a suggested retail price of $599, the Model 2121 is one of the most aggressively priced scopes on the market today.

B+K Precision's Model 2121 30MHz Dual Channel Analog Oscilloscope offers a number of outstanding features that provide ease of use, including:
o Dual or single trace operation (5 mV/div sensitivity)
o AUTO/NORM triggered sweep operation with AC, TVH, TVV and line coupling
o Calibrated 23 step time base with a xl0 magnifier
o Built-in 50MHz Frequency Counter

The Model 2121 is a rugged, easy-to-operate, highly reliable oscilloscope that provides dual channel operation within the DC to 30MHz-frequency bandwidth. Waveforms are accurately displayed on a 6" rectangular CRT.

The addition of the built in 50MHz frequency counter allows for quicker and in some cases more accurate signal analysis. Since the input of the counter is coupled with either input channel of the oscilloscope, the counter uses the same trigger level setting as the oscilloscope allowing the counter to be used with more complex waveforms then are allowed by many standalone frequency counters.

Measuring a compact 7" wide by 17.25" deep by 14.5" high (180 x 440 x 370mm), the Model 2121 30MHz Analog Oscilloscope is covered by B+K precision's two-year warranty and comes complete with operating manual, two PR-33A x 1/xl0 type probes, AC power cord, and spare fuse. It is priced at $599, quantity one and is available for immediate delivery.

For over 50 years, B&K Precision Corporation has developed a reputation for excellence in the design and manufacture of high quality, reliable and cost-effective test and measurement products. Recognized for their price-performance value, ease of use, measurement accuracy and application flexibility, B&K
Precision Corporation products are available worldwide through a global network of authorized distributors.

For additional information or the name and location of an authorized distributor near you, contact B&K Precision Corporation, 22820 Savi Ranch Parkway, Yorba Linda, California, 92887, Tel: (714) 921-9095, Fax: (714) 921-6422 or visit our Web site at www.bkprecision.com

Related