Analog Inductive Prox Sensors monitor moving targets.
Press Release Summary: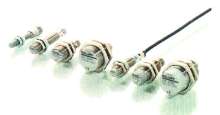 Ultralinear(TM) inductive proximity sensors utilize linear analog feedback signal that is proportional to target distance from sensor face and provides resolution down to 1.5 microns. Triple-setpoint models employ onboard microprocessor that allows teach-in of up to 3 output on-zones. Linearity/temperature-compensation and calibration ASICs enable repeatability of less than 3% and temperature drift of less than 1% between 15 to 55°C.
---
Original Press Release:

Ultralinear(TM) Sensor Technology Pairs Traditional Prox Ruggedness with a Highly Linear, Highly Accurate Continuous Feedback Signal for Reliable Process Monitoring in Toughest Industrial Environments


New analog inductive prox technology monitors moving targets for economical process control and automated positioning

by Craig Brockman, Product Manager, Balluff Inc.

October 2003 - Inductive proximity sensors are industry's feedback "ground troops," reliably soldiering amidst cutting fluid, metal chips, oil and other harmful media found in the trenches of automated manufacturing. Now these sensors are being given greater capabilities that make them cost-effective alternatives to encoders and laser sensors for position sensing - not just presence sensing - in manufacturing's toughest battlefields. New Ultralinear(TM) analog prox technology, developed by Balluff, combines prox sensor toughness with a highly linear analog feedback signal - sans external switching device - that is proportional to target distance from the sensor face and provides resolution down to 1.5 microns.

By providing more than a simple yes/no output as to the presence of a metal target, continuous-feedback Ultralinears allow a variety of difficult process control and positioning applications to be solved with tough, simple prox sensors. Possibilities include:

o measurement of distance, thickness, concentricity, circularity, wobble, and deflection;
o part sorting by size, shape or material;
o monitoring thermal expansion of ballscrews and shaft imbalance on rotating machinery;
o detection of object orientation;
o absolute linear positioning using direct metal target approach; and
o absolute rotary positioning using spiral eccentric metal cam.

Triple-setpoint Ultralinear models employ an onboard microprocessor that allows teach-in of up to three separate output "on-zones" to provide three-sensor functionality from a single prox. Users can setup detection zones to monitor parameters, such as component wear or bandsaw drift, using only one affordable sensor.

Ultralinear technology provides the industry's best repeatability (less than 3%) and temperature drift (less than 1% between +15° to 55°C) thanks to Balluff-patented linearity/temperature-compensation and calibration ASICs. Rugged, cost-effective alternatives to encoders and laser sensors, self-contained Ultralinear proxes not only let the control know where the target is, but their continuous-feedback-monitoring tells where the target's going.

Analog straight-shooter technology

All inductive proxes operate internally as analog devices, yet most are designed to produce a binary output signal. The classic switching prox design uses an oscillator coil assembly to generate an inductive eddy current field that extends in front of the sensing surface. When a conducting metal is introduced into this inductive field, the field is absorbed (collapses), reducing the voltage output in the circuit. At a predetermined low-voltage trigger level, the circuit opens (for normally closed circuits) or closes (for normally open circuits).

Ultralinears are based on this standard prox design, but instead generate a linear analog voltage (0 to 10VDC) or current (0 to 20mA or 4 to 20mA) proportional to the distance between sensor active surface and metal target. While standard proxes do operate as analog devices, their outputs are not linear. So in addition to standard sensing coil and oscillator in the front-end circuit, Ultralinears have a Balluff-patented ASIC (U.S. patent #5,504,425) which linearizes the output signal and compensates for temperature changes. This allows the proxes to provide a resolution of 1.5 microns, with industry-best linearity of ±3% (±0.045mm) for a 1.5mm stroke, as measured by a flush-mounted M12-style sensor.

A short-lead mechanical thermal connection from the chip to the sensing coil ensures that the temperature at the coil is the same as the thermal sensing point at all times. This, along with ASIC temperature compensation, provides an industry-best temp drift spec of less than 1%, ensuring reliability and accuracy despite fluctuating environmental conditions.

Another patented front-end ASIC (U.S. patent #5,408,132) is used for post-production calibration to lock-in min/max output signal range for each sensor. Typical factory calibration for a prox circuit is done prior to installation and potting in the prox housing. Calibration entails positioning a target in front of the sensor and trimming the pi-ox resistor with a laser until the correct spec window is reached. The sensor circuit is then installed and potted in the housing, which changes the original trimmed sensing distance. That error must be continuously monitored and the trimming operation adjusted accordingly. The Ultralinear teach-in calibration ASIC accounts for any variation due to housing material/shape and potting material by making prox calibration the final step of Assembly.

All Ultralinear sensor specs are listed per IEC 60947-5-2 test, which takes into account variations in supply voltage, temperature, warm-up time. etc. Therefore, published specs reflect performance under "worst-case" conditions, so actual sensor performance in more precisely controlled field applications will likely be better.

An output driver provides signal generation (voltage or current, depending on version), and uses an integrated power supply converter to drop the 24VDC input to 10VDC to power the ASICs. Short circuit and reverse polarity sensor protection functions are also built into the output driver circuit.

Triple setpoint technology offers three-prox functionality

Ultralinear versions are available with a special microprocessor built into the output driver that allows teach-in of three separate sensing zones, effectively turning the single prox into three sensors. Threshold setup procedure is simple thanks to a special "connect-to-high" control wire and three zone-specific output LEDs.

The triple setpoint microprocessor provides three normally open outputs and one program wire. The program wire is used to mark setpoints manually with a user-supplied dry contact pushbutton or remotely via dedicated PLC output. To set switching thresholds, the control wire is connected to the power positive for a couple of seconds, putting the prox into program mode. After the first output LED begins blinking (or if connected to an input, the input responds), the wires are disconnected. With the target positioned at the first zone threshold position, the control wire is again connected to the power positive for a couple of seconds. When the wires are disconnected, the setpoint is recorded. The microprocessor then automatically switches to the next output LED and the routine repeats for the second and third setpoints.

For maximum application flexibility, machine control can be programmed to look at one, two or all three zones, or just at the analog output like a standard Ultralinear. Since each setpoint is independently programmable, the sensing zones can be set up in any order as the target approaches the sensor-'s face. The setpoints can be programmed as close to one another as the band of repeatability, which is ±0.12mm for the M18 version. If two setpoints are programmed closer than ±0.12mm together, a change in temperature or supply voltage could invert those setpoints.

Analog feedback becoming more attractive

Falling price-per-point (PPP) for analog PLC inputs, as well as reduction of sensor component count and cost through Balluffs use of ASIC technology, is helping drive adoption of analog feedback devices such as Ultralinears. When previously considering analog feedback, not only was sensor cost an issue, so was the cost of the input point on the PLC. Dropping PPP and sensor cost open up more applications for proxes that provide a continuous feedback signal.

Though maximum sensing distance of 80 x 80 x 40mm "pancake style" Ultralinear is 50mm. the tubular proxes lack the standoff of most laser sensors. However, reliable operation and resistance to oil, dirt, vibration and impact make the IP67-rated proxes attractive solutions for continuous-feedback metal-target positioning applications in hazardous industrial environments.

More from Architectural & Civil Engineering Products