Analog Gaging Amplifier suits dynamic and static gaging.
Press Release Summary: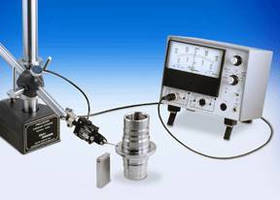 Featuring dual input ports for single or differential ID or OD measurements, Series 830 includes dimensional-measuring model calibrated in both inch and metric units. Gage inputs can be used simultaneously with either normal or reversed polarity for differential measurement setups, and ±2 V analog output port is also provided. Portable or bench mountable unit provides minimum of 8 hr of operation using rechargeable batteries and also operates on 120 or 240 AC line voltage.
---
Original Press Release:

Economical Mahr Federal Series 830 Gaging Amplifier Provides Benefits of Analog Display



Excels in Setup, Leveling and "Exploring" Applications

PROVIDENCE, RI -- Designed to provide a low-cost alternative to all-digital gaging amplifiers, newly enhanced Series 830 Analog Gaging Amplifiers from Mahr Federal feature dual input ports for single or differential ID or OD measurements with selectable ranges in inch or metric units. They are now available for use with "Federal" or "Mahr" type inductive probes. Portable or bench mountable, the high performance Series 830 amplifier is rugged and equally at home on the shop floor or in the laboratory.

"Even though we live in a digital world, analog displays still offer advantages in a number of applications," said Paul Mailloux, Manager Precision Gages for Mahr Federal. "Analog indicators instantly reflect true measurement size. They're easier to use than digital instruments and can more readily detect trends or rates of change."

Common applications include: part centering and leveling on machine tools; exploring a surface for defects on a surface plate; detecting part out-of-roundness on a V-block; and machine leveling using level sensors. With excellent response and performance characteristics, Series 830 Amplifiers are an outstanding choice for both dynamic and static gaging applications.

The 830 Series includes a dimensional-measuring model calibrated in both inch and metric units, and a model that supports both leveling and dimensional applications in arc-seconds and inches. Both models offer three measurement ranges and resolutions suited to most setup and inspection tasks.

Series 830 Amplifiers can be bench mounted or portable. A tilt base provides stable support and easy adjustment of viewing angle. All controls are located on the front of the cabinet. Specific models are available for use with "Federal" or "Mahr" full-bridge LVDT inductive probes.

Two gage inputs can be used simultaneously with polarity either normal or reversed for differential measurement setups. Calibration adjustment is available for each input, and a ±2 volt analog output port is also provided. Rechargeable batteries provide a minimum of eight hours of continuous use, and the system also operates on 120 or 240 AC line voltage.

Mahr Federal Inc., a member of the Mahr Group, is known worldwide for its expertise in providing dimensional measurement solutions. The ISO 9001:2000-certified company is headquartered in Providence, RI, and manufactures and markets a wide variety of dimensional metrology products. Mahr Federal's calibration system is accredited to ISO 17025 NVLAP Lab Code 200605-0.

For additional information, contact:
Marketing
Mahr Federal Inc.
1144 Eddy Street
Providence RI 02905 USA
Tel: (800) 333-4243 or (401) 784-3100
Fax: (401) 784-3246
Email: information@mahr.com
Web site: www.mahr.com

Contact:
Mahr Federal Inc.
Gary Robison
1144 Eddy Street
Providence RI 02905 USA
(401) 784-3275

More from Software