Analog Devices Presents Linear LT8708/-1 Regulator Controller with Six Independent Forms of Regulation
Press Release Summary: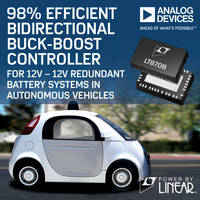 The Linear™ LT8708/-1 Bidirectional Buck-Boost Switching Regulator Controller is offered in 5 mm x 8 mm QFN-40 package and can operated in –40 to 125°C temperature range. The unit is operated with a single inductor over a 2.8 V to 80 V input voltage range and delivers an output voltage from 1.3 V to 80 V. It allows user to set the current limits independently using four resistors. The controller is suitable for use in automotive, solar, telecom and battery-powered systems.
---
Original Press Release:
98% Efficient Bidirectional Buck-Boost Controller for 12V-12V Redundant Battery Systems in Autonomous Vehicles
NORWOOD, Mass.--(BUSINESS WIRE)-- Analog Devices announces the Power by Linear™ LT8708/-1, a 98% efficient bidirectional buck-boost switching regulator controller that operates between two batteries that have the same voltage, which are ideal for redundancy in self-driving cars. The LT8708/-1 operates from an input voltage that can be above, below or equal to the output voltage, making it well suited for two each 12V, 24V or 48V batteries commonly found in electric and hybrid vehicles. It operates between two batteries and prevents system shut-down should one of the batteries fail. The LT8708/-1 can also be used in 48V/12V and 48V/24V dual battery systems.
The LT8708/-1 operates with a single inductor over a 2.8V to 80V input voltage range and can produce an output voltage from 1.3V to 80V, delivering up to several kilowatts of power depending on the choice of external components and number of phases. It simplifies bidirectional power conversion in battery/capacitor backup systems that need regulation of VOUT, VIN, and/or IOUT, IIN, both in the forward or reverse direction. This device's six independent forms of regulation allow it to be used in numerous applications.
The LT8708-1 is used in parallel with the LT8708 to add power and phases. The LT8708-1 always operates as a slave to the master LT8708, can be clocked out-of-phase and has the capability to deliver as much power as the master. One or more slaves can be connected to a single master, proportionally increasing power and current capability of the system.
Another application is for an input voltage to power a load, where this same input voltage is used to power a LT8708/-1 circuit that charges a battery or bank of supercapacitors. When the input voltage goes away, the load maintains power without disruption from the battery or supercaps by way of the LT8708's bidirectional capability.
Forward and reverse current can be monitored and limited for the input and output sides of the converter. All four current limits (forward input, reverse input, forward output and reverse output) can be set independently using four resistors. In combination with the DIR (direction) pin, the chip can be configured to process power from VIN to VOUT or from VOUT to VIN ideal for automotive, solar, telecom and battery-powered systems.
The LT8708 is available in a 5mm x 8mm QFN-40 package. Three temperature grades are available, with operation from –40 to 125°C for the extended and industrial grades and a high temp automotive range of –40°C to 150°C. For more information, visit www.analog.com/LT8708/-1.
Summary of Features: LT8708/-1
Operates with Two Batteries with the Same or Different Voltages
Synchronous Rectification: Up to 98% Efficiency
Delivers up to several Kilowatts with Multiphase Operation
Single Inductor Allows VIN Above, Below, or Equal to VOUT
Six Independent Forms of Regulation

VIN Current (Forward & Reverse)
VOUT Current (Forward & Reverse)
VIN & VOUT Voltage

Forward & Reverse Discontinuous Conduction Mode Supported
Supports MODE & DIR Pin Changes While Switching
VIN Range 2.8V (Need EXTVCC > 6.4V) to 80V
VOUT Range: 1.3V to 80V
Available in 40-Lead 5mm × 8mm QFN with High Voltage Pin Spacing
Pricing & Availability
Product                        Production Availability                 Price Each per 1,000                      Package
LT8708/-1                                 Now                                             Starts at $6.60                  5mm x 8mm QFN-40
About Analog Devices
Analog Devices is the leading global high-performance analog technology company dedicated to solving the toughest engineering challenges. We enable our customers to interpret the world around us by intelligently bridging the physical and digital with unmatched technologies that sense, measure, power, connect and interpret. Visit http://www.analog.com.
Contacts
Analog Devices, Inc.
John Hamburger, 408-432-1900 ext 2419
john.hamburger@analog.com
or
Doug Dickinson, 408-432-1900 ext 2233
douglas.dickinson@analog.com
More from Machinery & Machining Tools