Analog Control works with handheld and portable devices.
Press Release Summary: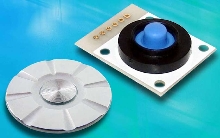 Ergo-NAV 360° and N-way variable-rate pointing and navigation control device provides human interface device technology for portable devices. Pointing and navigation disk devices allow addition of applications such as GPS and MS Office through mouse-like navigation. Technology combines electrically variable resistive rubber sensor, plastic components, mechanical design geometries, and firmware algorithm.
---
Original Press Release:

ITT Industries, Electronic Components Introduces 360-degree and N-Way Ergo-NAV Analog Control for Handheld and Portable Devices


New interface technology maximizes functionality for end-users...

SANTA ANA, Calif. - June 29, 2005 - ITT Industries, Electronic Components has introduced a 360-degree and N-way variable-rate pointing and navigation control technology for handheld and portable devices. This innovative technology provides human interface device technology to maximize functionality for end-users while meeting designers' criteria of durability, reliability, small form-factor, design flexibility and cost-effectiveness. The pointing and navigation disk devices can significantly enhance handheld and portable device functionality and capabilities, allowing the addition of more advanced applications - such as GPS, Microsoft Office and gaming - through mouse-like navigation at your fingertips.

The technology combines an electrically-variable resistive rubber sensor, simple plastic components, mechanical design geometries and sophisticated firmware algorithm, all requiring minimal PCB space. When a user deflects an actuator, it translates user motion and rolls in two dimensions on a circular resistive rubber sensing element that defines a contact location on a circular PCB electrical contact pad. The position of the actuator is accurately determined using the firmware algorithm. This analog output can be digitized and processed by virtually any standard processors.

"By incorporate 360-degree and N-way full variable-rate point or navigation control into their applications, appliance designers can significantly enhance the applications available to end-users," said Bernd Steinebrunner, Director of Product Management, Dome Arrays and EL Lamps for ITT. "While processors and memory were previously capable of supporting advanced, PC-like applications, the human interface portion had not been able to keep up with size constraints and other performance pressures. This technology bridges the gap and creates a new realm of application possibilities for handheld and portable device manufacturers."

"ITT has a stellar reputation in the components industry," says Craig Vachon, the CEO of Varatouch. "We are so pleased to partner with ITT to design analog pointing devices, navigation disks and multiple interface solutions that improve on the digital services offered today. It's relationships like this that continue to make Varatouch innovative and successful in our key markets."

ITT's Ergo-NAV Control Technology is available in 360-degree or N-way full variable speed analog control, with center select and low power consumption, including instant wake up. The simple electrical interface is received through five standard GPIOs and emitted through an 8-bit analog-to-digital converter. It requires 8-bit support (ported to a standard processor), or additional processors when employing I2C, PS2, UART or SPE interfaces.

The variable-rate pointing and navigation devices are designed for more than 3 million life cycles with high reliability and durability. Design flexibility includes three options: a standard reference design (straight drop in); module design (reference design with customized actuator and without PCB); or fully custom solutions.

About ITT Industries, Electronic Components

ITT Industries, Electronic Components (www.ittcannon.com) is an international supplier of connectors, interconnects, cable assemblies, switches, dome arrays, keypads, multi-function grips, panel switch assemblies, I/O card kits, smart card systems and LAN components, as well as a provider of high-speed/high-bandwidth network systems and services.

About ITT Industries

ITT Industries, Inc. supplies advanced technology products and services in key markets including: fluid and water management including water treatment; defense communication, opto-electronics, information technology and services; electronic interconnects and switches; and other specialty products. Headquartered in White Plains, NY, the company generated $6.8 billion in 2004 sales.In addition to the New York Stock Exchange, ITT Industries stock is traded on the Midwest, Pacific, Paris, London and Frankfurt exchanges.

About Varatouch

Varatouch (www.varatouch.com) is an intellectual property company dedicated to the design of innovative analog input devices. Varatouch's patented Vsense (TM) technology enables our partners to exclusively develop, market and manufacture low cost, simple and reliable human interface solutions for consumer electronic products. Working with our distribution and manufacturing partners, we together make it a better experience for consumers to interface with technology in everyday life.