Anaerobic Retaining Compounds cure through contaminants.
Press Release Summary: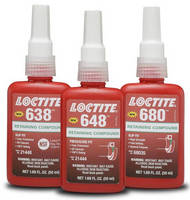 Allowing primerless performance on oily or contaminated surfaces, Loctite® 638™/648™/680™ make joints stronger, distribute stress evenly, and prevent corrosion/fretting. General-purpose Loctite 638 resists temperatures to 175°C and can be used in applications with gaps to 0.25 mm. Used in temperatures to 180°C, general-purpose Loctite 648 fixtures in 5 min with full cure in 24 hr and fills gaps to 0.15 mm. High-strength, low-viscosity Loctite 680 supports use on parts with gaps to 0.38 mm.
---
Original Press Release:

Enhanced Loctite® Retaining Compounds from Henkel Cure Through Contaminants and Perform at High Temperatures



Primerless, High-Strength Anaerobic Retaining Adhesives Secure Cylindrical Assemblies



Rocky Hill, Conn. -- Henkel Corporation has enhanced three Loctite® anaerobic retaining compounds to allow primerless performance on oily or contaminated surfaces, even at operating temperatures as high as 180°C. Used in combination with interference fits to secure bearings, bushings, gears and cylindrical assemblies into housings or shafts, Loctite® 638™, 648™ and 680™ Retaining Compounds allow higher load transmission, better performance with existing designs, relaxed machining tolerances and reductions in the size, weight and overall cost of an assembly.



All three improved Loctite® retaining adhesives make joints stronger, distribute stress evenly, prevent corrosion and fretting and reduce or eliminate expensive machining and surface-finishing operations. Loctite® 638™ is a general-purpose retaining compound recommended for press fits that will need subsequent disassembly. Designed for use on loose-fitting parts, this globally-available, high-strength adhesive resists temperatures to 175°C and can be used on applications with larger gaps approaching 0.25 mm. The adhesive is registered to NSF Category P1.



Loctite® 648™ is a high-strength retaining compound recommended for continuous working temperatures to 180°C. This globally-available, general-purpose retaining adhesive fixtures in five minutes with full cure in 24 hours and is designed for use on close-fitting parts. The high-strength formulation bonds well to stainless steel press and interference fits, and fills gaps to 0.15 mm. The adhesive is certified to ANSI/NSF Standard 61 for use in potable water systems.



Loctite® 680™ is a high-strength retaining adhesive for use on slip-fitted parts with gaps as large as 0.38 mm. This low-viscosity material is certified to ANSI/NSF Standard 61 for use in potable water systems.



For additional information and to request a sample of Loctite® 648™ and a copy of the new Loctite® Retaining Compound Design Guide, go to www.loctiteretaining.com. For technical assistance, please call 1-800-LOCTITE (1-800-562-8483).



Henkel operates worldwide with leading brands and technologies in three business areas: Laundry & Home Care, Beauty Care and Adhesive Technologies. Founded in 1876, Henkel holds leading global market positions in consumer and industrial businesses with well-known brands such as Persil®, Schwarzkopf® and Loctite®. Henkel employs about 47,000 people, and has reported sales of $21.13 billion with adjusted operating profit of $2.98 billion in fiscal 2012. Henkel's preferred shares are listed in the German stock index DAX.



Contact

Paula Zakrzewski Shepard

Image Ink Public Relations

Tel: 860-228-8056

imageinkpr@aol.com



Henkel Corporation

Engineering Adhesives

One Henkel Way

Rocky Hill, CT 06067

Tel: 1-800-LOCTITE (562-8483)

Tel: 860-571-5100

www.henkelna.com/industrial

More from Materials