Amplifiers Meet NAMUR NE 95 Requirements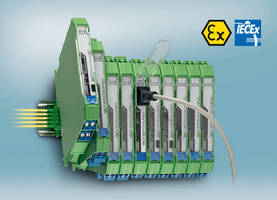 MIDDLETOWN, Pa. – The MACX Analog Ex-i isolation amplifiers from Phoenix Contact have successfully passed type testing in accordance with NAMUR NE 95. This means the devices meet the requirements of the Industrial Practices Interest Group (IGR), a European-based association of the chemical and pharmaceutical industry.



The MACX Analog Ex-I isolation amplifiers are single- and dual-channel signal isolators for intrinsically safe circuits in potentially explosive areas. These products deliver maximum system safety and explosion protection with minimal space requirements. The slim 12.5-mm modules offer a wide range of features, ATEX and IECEx approval and full SIL certification.



NAMUR NE 95 encompasses both the testing of technical properties and the analysis of aspects such as explosion protection, maintenance and repairs, installation and device documentation. The test reports certify that the devices deliver excellent technical properties in terms of precision and ambient temperature influence, offer electromagnetic compatibility as per NAMUR NE 21, are fully compatible with Ex-i field devices, have clear and easy-to-understand documentation and make good use of space, thanks to their compact design.



IGR is the knowledge platform of the chemical and pharmaceutical industry. The Industrial Practices Interest Group, which currently has 31 member companies ranging from AkzoNobel to Weylchemie, defines and represents the interests of users. As a knowledge platform, it promotes the exchange of information and experience regarding the complete lifecycle of plants and systems. IGR also provides services such as the monitoring of relevant regulations and the assurance of quality standards.



About Phoenix Contact

Phoenix Contact develops and manufactures industrial electrical and electronic technology products that power, protect, connect and automate systems and equipment for a wide range of industries. Phoenix Contact GmbH Co. KG, Blomberg, Germany, operates 50 international subsidiaries, including Phoenix Contact USA in Middletown, Pa.



For more information about Phoenix Contact or its products, visit http://www.phoenixcontact.com, or call technical service at 800-322-3225, e-mail info@phoenixcon.com.





More from HVAC