Amplifier-Digitizer handles large strain gage applications.
Press Release Summary: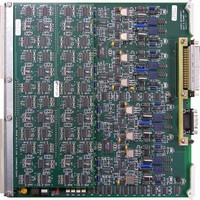 Designed for Series 6000 DAQ System, Model 6037 is 8-channel strain gage and transducer signal conditioning-amplifier-digitizer that automatically ranges gain according to signal level. Excitation is programmed in 1 V steps from 0-12 V, while 4-pole, low-pass filter provides bandwidths from 1 Hz to 1 kHz with programmable selection of filtered or wideband output. Unit features 16-bit Adc that digitizes transducer signals at programmable sample rates up to 10,000/channel.
---
Original Press Release:

Strain Gage Amplifier-Digitizer with Automatic Gain Ranging



February 11, 2008

Concord, CA - Pacific Instruments, Inc. announces a new eight-channel strain gage and transducer signal conditioning-amplifier-digitizer for its Series 6000 Data Acquisition System. Model 6037 automatically ranges gain according to signal level for the optimum signal to noise performance. It is specifically designed for large strain gage applications such as airframe structural testing.

Selecting the channel gains to use on a large structural test is a time consuming task. Under or overestimating signal levels results in lost or degraded data. It is always desired to use the highest gain possible, which results in the best signal-to-noise performance. If the signal level is higher than expected, however, it will overscale the amplifier, resulting in lost data. Too low of a signal results in degraded resolution and poor signal-to-noise performance. Automatic gain ranging eliminates these concerns by dynamically scaling the amplifier's gain to the input signal level, providing the highest output without overscale.

Recent advances in logic array technology and density make it possible to provide "smart" automatic gain ranging. Simple gain ranging has been feasible for some time. An example is an amplifier that reduces gain at a specific signal level to prevent overscale. The 6037's "smart" gain ranging not only reduces gain but increases it when the signal is below a specified threshold. Furthermore, the user can program the signal levels at which to reduce or increase gain for each channel independently and can program a period of time which the signal must be above or below the threshold before the gain change takes place. This last feature prevents gain ranging on noise or transients.

Gain codes for the eight channels on each 6037 are output on two 16-bit "phantom" channels. By including the "phantom" channels in the Series 6000 scan table, the gain employed for each data sample is known. PI660 software automatically accounts for gain ranging in displayed and exported data.

The 6037 is entirely programmable. Software configures it for quarter, half or full bridge transducer eliminating the usual jumpers, soldering and need for precision bridge completion resistors. Excitation is programmed in 1-Volt steps from 0 to 12 Volts. Automatic zero and balance replace the tedious manual adjustments usually associated with strain gages and bridge transducers. If automatic gain is not employed, it is programmable from 1 to 5,000 with 0.05% accuracy. A four-pole, low-pass filter provides bandwidths from 1 Hz to 1 kHz with programmable selection of filtered or wideband output. End-to-end voltage calibration using a certified standard provides NIST traceable measurement accuracy.

A 16-bit ADC digitizes the transducer signals at programmable sample rates up to 10K per channel. Individual sample & hold amplifiers provide 50-nanosecond time correlation channel to channel. In addition to the digitized output, each channel has a high-level output for analog monitoring and recording.

Another useful feature is hardware-based limit alarms. Two sets of programmed high and low alarm levels are monitored for each channel. An alarm violation may be used to automatically activate digital outputs that can control external equipment or provide operator warning. Hardware-based alarms provide the fastest means of detecting conditions that could damage an expensive test article.

A fourteen-inch high, rack-mounting enclosure holds up to 128 channels and with additional enclosures, a system can be expanded to 4,096 channels. It is available with IEEE-488, Ethernet or USB 2.0 interface for programming and data output. PI660 Software for Windows supports the 6037 for setup, control and data recording, distribution and display. An Application Programmers Interface (API) is available for programming custom application software in Visual Basic, LabVIEW, Excel and other languages that support DLL calls.

Model 6037 is now available.

For further information please contact:
Chris Lloyd
Pacific Instruments, Inc.
4080 Pike Lane
Concord, CA 94520
Tel: (925) 827-9010
Fax: (925) 827-9023
Email: clloyd@pacificinstruments.com
Title: National Sales Manager
E-mail: sales@pacificinstruments.com

URL: www.pacificinstruments.com

More from Computer Hardware & Peripherals