Amplifier conditions strain gages and load cell sensors.
Press Release Summary: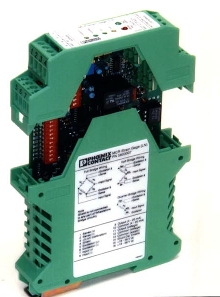 MCR-Strain Gage amplifier module includes 1,000 V 3-way galvanic isolation between power supply, input, and output circuits. It supports strain gages/load cells with resistances from 120 to 20,000 ohms. Module filters and conditions signals to eliminate unwanted signal noise with DIP switch selectable cutoff frequencies of 30 Hz or 5,000 Hz. Outputs are provided for voltage (0-10, ±10, 0-5, or ±5 volts), and current loop (4-20 mA) operation.
---
Original Press Release:
Phoenix Contact Introduces a Universal Strain Gage/Load Cell Amplifier
Harrisburg, PA -- Phoenix Contact introduces a new universal Strain Gage/Load Cell signal conditioner that features everything needed to amplify and condition all varieties of strain gage and load cell sensors and to deliver highly accurate signal outputs. The MCR-Strain Gage amplifier includes 1000 V three way galvanic isolation between the power supply, input, and output circuits. The module provides DIP switch selectable sensor style, filter/frequency response and amplifier gain. The module supports strain gages/load cells with resistances from 120 ohms to 20,000 ohms. These choices allow the amplifiers to operate load cells, torque transducers, pressure transducers, and quarter and half bridge strain gages. Sensors may be connected with a 3, 4, or 6-wire configuration. The modules offer freely adjustable excitation that provides a highly stable, low noise voltage with integrated current limiting and thermal protection. The module also filters (active low-pass filtering) and conditions the signals to eliminate unwanted signal noise with DIP switch selectable cutoff frequencies of 30 Hz or 5000 Hz. The MCR-Strain Gage amplifier has two outputs styles for optimal convenience. Outputs are provided for voltage (0-10, +/-10, 0-5, or +/-5 volts), and current loop (4-20 mA) operation. Calibration of the modules can be accomplished using either an internal 5mV precision reference or a shunt resistor across one arm of the strain gage bridge. As an option, a built in relay version is also available to accommodate test and measurement high precision applications. An over voltage alarm LED lights when the signal is outside the +/- 10 volt limits of operation alerting the user of any signals exceeding the recommended output rating. These universal features allow this product to be a natural fit in applications such as web tension, process weighing, stress-strain analysis, pressure and vibration monitoring. The MCR-Strain Gage module is featured in a compact DIN-rail mount 22.5mm housing which includes plug-in, coded screw terminals, and wiring diagrams on the side labels for easy and safe wiring, configuration and maintenance. Phoenix Contact Inc. Quality System is registered to ISO 9001: 2000 - Quality Systems Model for Quality Assurance in design, development, production, installation and servicing. Information on the MCR-Strain Gage module is available from Phoenix Contact Inc., Technical Service Department, P.O. Box 4100, Harrisburg, PA 17111-0100, (800) 322-3225, FAX (717) 944- 1625; E-mail: info@phoenixcon.com. Visit the company's website at www.phoenixcon.com
More from Thermal & Heating Equipment