Amphenol Expands Distribution through AmazonSupply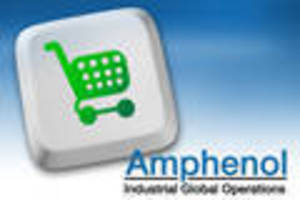 Sidney, N.Y. - Amphenol Industrial Global Operations, a global leader in interconnect systems, now offers a variety of its products on AmazonSupply. Amphenol is the first connector company to sell its products through the online store.

By logging onto www.amazonsupply.com, customers can now view and purchase products from 10 of Amphenol's product line series used throughout nine of Amphenol's key markets including machine tool, medical, motor control, power distribution, solar, test and measurement, traffic control, welding and geophysical.

Martin Booker, general manager of Amphenol Industrial Global Operations, said, "Working with AmazonSupply enables us to get our products into the hands of customers quickly, efficiently and hassle-free. There is no better way for us to get our products in front of users worldwide than through the Amazon name customers have come to trust. AmazonSupply makes it simple for our customers to shop with just a click of a mouse."

A variety of Amphenol Industrial products ranging from solar products to RADSOK products are available for immediate purchase on the site, including Amphenol's 97 Series, 5015, 26482 - Series 1, Amphe-Lite, Amphe-PD, Helios H4 Connectors, HelioLug, PowerLink, RPT and SurLok.

For more information, please visit www.amphenol-industrial.com or e-mail mhartman@amphenol-aio.com.

UPCOMING TRADESHOW: ONS, Stavanger, Norway, 8/28-31; Solar Power International, Orlando, FL, 9/10-13

Please forward all reader service inquiries to Martin Hartman at Amphenol Industrial Global Operations, Amphenol Corporation, 40-60 Delaware Ave, Sidney, N.Y., 13838-1395; e-mail: mhartman@amphenol-aio.com; Web: www.amphenol-industrial.com.

Amphenol Industrial Global Operations, headquartered in a 675,000 square foot facility in Sidney, N.Y., provides a full range of high reliability connectors and interconnection systems specifically for the industrial markets including base stations, rail/mass transit, process control, automotive manufacturing, heavy equipment, and petrochemical/power generation.

Products include ruggedized-for-industry cylindrical, fiber optic, rectangular, and industrialized versions of Amphenol's MIL-DTL-5015 cylindrical, MIL-DTL-26482 miniature cylindrical and GT reverse bayonet cylindrical connectors. It employs more than 1,400 people and is both ISO9001 and MIL-STD-790 certified.

Amphenol Industrial Global Operations is a division of Amphenol Corporation, Wallingford, CT, one of the largest manufacturers of interconnect products in the world, with year 2011 sales topping $3.9 billion.


More from Agricultural & Farming Products