Sensors / Detectors / Transducers
AMETEK Sensors and Fluid Management Systems Selected to Supply Fuel Gauging System for AVIC XCAC MA700 Regional Turboprop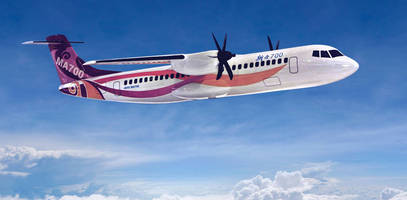 The fuel management system will include fuel level probes, fuel quantity signal conditioners, in-tank harnesses, temperature sensors, refuel control panels and high/low level sensors
PARIS, FRANCE – AMETEK Sensors and Fluid Management Systems (SFMS), the global leader in sensor technology for a broad range of aircraft engine and airframe applications, announced today during a contract signing ceremony at the 53rd Annual International Paris Air Show that it has been selected by AVIC XAC Commercial Aircraft Co., Ltd (AVIC XCAC), a subsidiary of Aviation Industry Corporation of China, Ltd. (AVIC), to supply the fuel gauging system for the MA700 turboprop regional aircraft.
Under the terms of the agreement, AMETEK SFMS will provide AVIC XCAC with a complete fuel gauging system for the MA700, including fuel level probes, a fuel quantity signal conditioner, in-tank harnesses, refuel control panels, high/low level sensors and temperature sensors. The company's fuel gauging systems are designed to withstand harsh environments with high reliability, optimum accuracy and ease of installation.
"AMETEK is honored that AVIC has selected our highly accurate and reliable fuel gauging system for the MA700 program. AVIC is a key partner for AMETEK, focused on developing commercial aircraft for China's domestic airliner market and the international market as well," said Elaine O'Neill, Vice President and Business Unit Manager for AMETEK SFMS. "We look forward to expanding our relationship with AVIC in this exciting emerging market. The MA700 program is a significant addition to our portfolio of aircraft fuel gauging projects."
The MA700 is a twin-engine, medium-range aircraft currently under development that will accommodate up to 85 passengers. Designed for economic efficiency, the aircraft is expected to achieve CAAC certification by 2021, with entry into service in 2022. As of June 2019, the aircraft has received 285 orders from 11 operators.
"XCAC thanks AMETEK for participating in the MA700 project. XCAC attaches great importance to the cooperation with AMETEK and hopes the two sides establish a long-term relationship through the cooperation of MA700 project." said Zhu Jianxin, Vice President of AVIC XCAC.
To learn more about AMETEK Aerospace and Defense and SFMS, stop by Chalet B321 at the 53rd Annual Paris Air Show, happening June 17 - 20, 2019. Our team is taking meetings on a request basis. Please contact aerosales@ametek.com to request a meeting.
 
About AMETEK Sensors and Fluid Management Systems
AMETEK Sensors and Fluid Management Systems is a leader in aircraft and engine sensors for temperature, pressure, flow, fluid level, acceleration, proximity, speed and position. It is a business unit of AMETEK's Aerospace and Defense division, a leading supplier of engine and aircraft monitoring systems; data acquisition units; fuel and fluid measurement systems; heat transfer and cooling systems; and maintenance and repair services. AMETEK Inc. is a leading global manufacturer of electronic instruments and electromechanical devices with annual sales of $5 billion.
About AVIC XAC Commercial Aircraft Co., Ltd
AVIC XCAC Company, which specializes in the design and manufacture of commercial aircraft, is part of AVIC Group, a Chinese state-owned aerospace and defense consortium, headquartered in Beijing, China. The design and production of the MA700 turboprop will be done at AVIC's Xi'an Aircraft subsidiary in Xi'an, Shaanxi, China.
For More Information:
AMETEK SFMS, 50 Fordham Rd
Wilmington, MA 01887
Phone: 978-988-4617
E-mail: aerosales@ametek.com
More from Software