AMETEK Rotron Exhibits Semi-Cool Precision Fans and Custom Cooling Systems for the Semiconductor Industry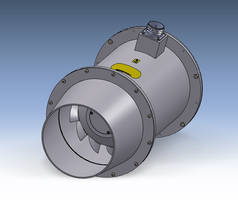 High-reliability, compact fans designed for military/aerospace missions assure dependability and consistent temperatures for semiconductor applications
AMETEK Rotron (www.rotron.com) exhibits its SemiCool custom cooling subsystems for high-reliability cooling of semiconductor production processes at Semicon Japan. Including the Rotron MAXIAX vaneaxial fans originally designed for critical military and aerospace applications, the SemiCool systems offer precise temperature control in a compact package.
Complete SemiCool systems include high reliability fans, optimized heat exchangers and custom ductwork. Alternatively, customers can integrate the MAXIAX fans into their own cooling subsystems.
Optimized fans with diameters ranging from 152.4mm (6") to 203.2mm (8") provide airflows of 425 l/s (900 CFM) at 254mm WG (10 IWG), with efficiencies approaching 60%. This is a significant departure from standard 0.9 m (3') tall industrial blowers commonly used in semiconductor production facilities. Designed to operate with 400 Hz industrial power converters, the fans feature rapid response, infinite speed control and minimal space requirements – all designed to support consistent system operating temperatures.
Applications:
• Semiconductor fabrication
• Semiconductor production equipment OEMs
• Lamp cooling
• Thermally controlled process air circulation
• Process heat removal
• Control electronics generated heat
• Vapor deposition
• Etching process
• Wafer Fabrication
SemiCool systems can meet the cooling needs of all heat-intensive process steps in semiconductor production. Systems are compliant with semiconductor industry traceability and configuration control requirements. They can be certified to TUV requirements and are produced in a AS9100, ISO9001 manufacturing environment.
AMETEK Rotron is a division of AMETEK, Inc., a leading global manufacturer of electronic instruments and electromechanical devices with annual sales of US$4.0 billion.
A. Compact MAXIAX vaneaxial fans, originally designed for critical military applications, provide high reliability cooling of semiconductor production processes.
Product Sales Contact:
UK
AMETEK Airscrew Ltd.
Steve Galloway
Phone: +44.12.58.45.06.41
Website: http://www.ametekaerodefense.com
Email: steve.galloway@ametek.co.uk
France:
EPCI ENGINEERING
TEL: +33-1-34-48-34-10
FAX: +33-1-34-21-80-40
Jean-Louis Furic,
Managing Director
Email: jl.furic-epci@wanadoo.fr
Germany:
ANDREAS ZOELLNER CONSULTING SERVICES
TEL+49-7624-983-717
FAX: +49-7624-983-718
Andreas Zoellner
Email: a.zoellner@zoelle1.de
Italy
Connex Italiana S.r.l.
Piercarlo Infrano
Phone: +39.02.39.32.11.47
Fax: +39.02.64.64.11.95
Email: piercarlo.infrano@connex-italiana.com
Netherlands
BMF System Parts B.V.
Marcel Visscher
Phone: +31-40-8512-70
Fax: +31-40-8512-71
Email: marcel.visscher@bmf-systemparts.com
China
HongKong Everblooming International Co., Limited
Jie Yang
Phone: +86-10-59432675
Fax: +86-10-81541897
Website: http://www.bjdfht.com
Email: zly@bjdfht.com
India
AMETEK Instruments India Private Limited
Anantha Hanumaiah
Phone: +91 80 6782 3259
Fax: +91 80 6782 3232
Email: ananth.h@ametek.com
Japan
Nippon Aircraft Supply Co., Ltd.
Katsu Minegishi
Phone: +81-3-5368-5200
Fax: +81-3-5368-5201
Email: kminegishi@nasco.co.jp
Taiwan
Avatar Technology Co., Ltd.
David Yang
Phone: +886-2-26498720
Fax: +886-2-26498720
Email: david@avatartec.net
Republic of Korea
Haneun Industry Co. Ltd.
K. H. Choi
Phone: +82-2-558-2616
Fax: +82-2-558-2619
Email: choi@haneun-ind.com