AMETEK Releases New JOFRA CTC-1205 Temperature Calibrator with Mains power Variance Immunity Circuitry
Press Release Summary: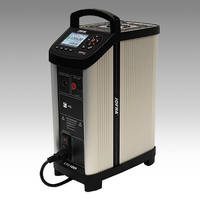 The JOFRA® CTC-1205 Compact Temperature Calibrator is suitable for use in waste incineration, power plants, oil and gas production and metal industry. The calibrator can be used in temperature range between 100 and 1205°C with an accuracy of ± 0.2°C and stability up to ± 0.1°C for total temperature range. The units are offered with STS reference sensors for full documentation, automatic switch test and auto stepping options.
---
Original Press Release:
For Time-Saving Temperature Calibration – Go JOFRA!
AMETEK STC Launches New Top Model in the JOFRA CTC Series
ALLEROED, DENMARK – AMETEK Sensor, Test & Calibration (STC) has launched its new JOFRA® CTC-1205 compact temperature calibrator. This temperature calibrator offers improved calibration times over JOFRA's CTC-1200 calibrator and is ideal for waste incineration, power plants, oil and gas production as well as for the metal industry.
With the CTC-1205, AMETEK STC has raised the bar on its CTC series of compact temperature calibrators. This new temperature calibrator offers a temperature range of 100° to 1205°C (212 to 2201°F), accuracy of ± 0.2°C (± 0.36°F), and stability to ± 0.1°C (± 0.18°F) for the total temperature range.
The calibrator offers silent mode operation, which provides an improved working climate in laboratory areas, and faster cooling times, down to only 45 minutes. The CTC-1205 calibrator saves working hours and improves workflow. MVI (Mains power Variance Immunity) circuitry ensures stability despite mains supply variations.
The CTC-1205 features an intuitive easy-to-use interface, and popular functions, such as automatic switch test and auto stepping, are available with special one-key-one-function buttons.
The unique STS reference sensors for the CTC-1205 are "plug 'n' play" and ensure full documentation. CTC-1205 calibrators ordered with the reference sensors will include a full system calibration certificate as a standard.
The CTC-1205 is the top model in the JOFRA CTC Series product line of compact temperature calibrators, which also includes the CTC-155 with a temperature range of -25° to 155°C (-13° to 311°F); CTC-350 with a temperature range of 28° to 350°C (82° to 662°F); and the CTC-660 covering 28° to 660°C (82 to 1220°F).
CTC Series calibrators are available in different models: with reference sensor, without reference sensor but ready for external, and without external input. All CTC models come with the proprietary JofraCal calibration software as a standard.
All CTC Series calibrators are rugged, light-weight temperature calibrators designed for onlocation usage as well as for laboratory use. An optional carrying case provides improved portability and safety when moving the calibrator from one destination to another. The case stores and protects the CTC-1205 calibrator, the reference sensor, inserts, support rods, wires, manual, plugs and insert tools all together.
AMETEK STC manufactures and supplies calibration instruments for temperature, pressure and process signals under the brands JOFRA and Crystal. JOFRA temperature calibrators are known worldwide for their accuracy, stability and reliability. To learn more visit www.ametekcalibration.com.
Contact: Lisbeth Harpsoe, lisbeth.harpsoe@ametek.com 
Related