Ametek Presents Asterion AC Series Power Supplies with iX2 Current-Doubling Technology
Press Release Summary: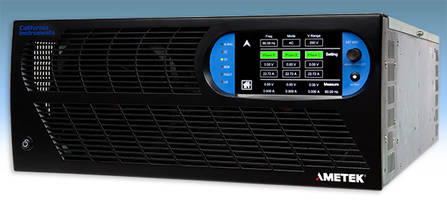 Available in 4503 and 6003 models that deliver output power of 4,500 W and 6,000 W respectively
Features an Auto-Paralleling and Clock/Lock options that allow user to easily configure multi-phase systems
Delivers AC and DC output voltage range up to 400 Vac and 500 Vdc with load and line regulation of ±0.025% and ±0.015% respectively
---
Original Press Release:
AMETEK Programmable Power Expands Its Asterion™ Line of AC Power Sources
SAN DIEGO, February 26, 2018 – AMETEK Programmable Power, the global leader in programmable AC and DC power test solutions, has added two new models to its Asterion™ line of AC power sources.
The Asterion 4503 supplies AC and DC output power up to 4,500 VA or 4,500 W, and the Asterion 6003 supplies up to 6,000 VA or 6,000 W. Both units come in a 4U chassis and can supply single- or three-phase output power.
Like the lower-power 1U and 2U models, Asterion Models 4503 and 6003 offer a compelling combination of intelligence, performance, and modularity that make them the most adaptable and affordable platform available today.
The key to Asterion's outstanding performance is AMETEK's iX2™ current-doubling technology. With iX2, as the output voltage decreases from the maximum value to one-half the maximum value, the available output current increases up to two times the rated output current.
This allows Asterion to maintain maximum power through the widest range of voltages. As a result, iX2 current-doubling technology eliminates the need to buy multiple sources or overpowered sources to run tests at different voltage levels, such as when performing low line voltage testing.
Asterion offers wide AC and DC output voltage ranges up to 400 Vac and 500 Vdc. Load and line regulation are +/-0.025% and +/-0.015%, respectively. This makes the Asterion more versatile and accurate than most other AC power sources available today.
Other unique Asterion benefits include Auto-Paralleling and Clock/Lock. With autoparalleling, users can combine up to six units to achieve 36 kVA of output power. One unit becomes the master while the rest serve as auxiliary units. The clock/lock feature allows users to easily configure multi-phase systems, such as split-phase, three-phase, or even higher phase count systems.
This allows users to purchase only the power they need today and then easily add more power and/or phases later as required. That scalability, along with the ability to expand easily as required, helps protect the value of the user's initial investment and allows additional capital spending to be deferred until needed.
In addition, test engineers will appreciate the Asterion AC source's ease of use. AMETEK developed an entirely new user interface for this platform. The intuitive, touchscreen interface, not found on other AC sources, allows users to quickly and easily set up the source and run tests. The Asterion offers a complete avionics test suite as an option, with a programmable frequency between 16Hz and 5000 Hz.
This powerful set of features allows Asterion to be used in both the lab and in ATE systems. If the Asterion is used as part of an ATE system, test engineers can order it without a front panel, which offers significant savings.
Asterion comes with standard LXI LAN, USB, and RS-232 interfaces. An optional GPIB interface is also available. Intuitive Virtual Panels control GUI software comes bundled with the instrument for easy remote control from a computer. Included drivers allow test engineers to quickly integrate the unit into ATE systems.
Additional Information
For more information on AMETEK's programmable power supplies and programmable loads, contact an authorized AMETEK Programmable Power sales representative in the United States by visiting www.powerandtest.com/sales-reps/programmablepower-sales AMETEK Programmable Power also can be contacted directly tollfree at 800-733-5427 or 858-450-0085 or at sales.ppd@ametek.com.
About AMETEK Programmable Power
AMETEK Programmable Power designs, manufactures and markets precision, AC and DC programmable power supplies, electronic loads, application-specific power subsystems, precision data acquisition instrumentation and signal switching, and compliance test solutions for customers requiring and valuing differentiated power products and services. AMETEK Programmable Power offers one of the industry's broadest portfolios of core ATE components under the VTI Instruments, California Instruments™, Sorensen™, and Elgar™ brands.
AMETEK Programmable Power is a business unit of the AMETEK Electronic Instruments Group, a leader in advanced instruments for the process, aerospace, power and industrial markets. AMETEK, Inc. is a leading global manufacturer of electronic instruments and electromechanical devices with annual sales of $4.3 billion.
For further information contact: 
Craig Frahm
Tel: (858) 678-4459
E-mail: craig.frahm@ametek.com
Website: www.powerandtest.com 
Related