Pressure Sensors / Detectors / Transducers
American Sensor Technologies Offers SIL2 Certified 4-20 Pressure Transmitters with Hazardous Location Ratings for Upstream/Downstream Applications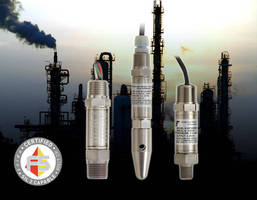 American Sensor Technologies (AST) has received SIL2 certification for its 4-20mA pressure transmitters with hazardous location ratings including explosion-proof, intrinsically safe and non-incendive areas. The SIL (Safety Integrity Level) certification was conducted through Exida and meets IEC 61508 standards.



The following products are available in SIL2 configurations:

• AST4300 Non-Incendive Pressure Transmitters

• AST43LP Non-Incendive Pressure Sensor, Class 1 Div 2 Groups A, B, C, D

• AST4400 Intrinsically Safe Pressure Transmitter

• AST4401 Intrinsically Safe Pressure Transmitter, Groups A and B

• AST44LP Class 1, Div. 1 Intrinsically Safe, Low Pressure Transmitter

• AST4500/4510 Submersible Pressure Sensor, Intrinsically Safe, Class I Div 1, Groups C and D

• AST4520 Flush Diaphragm, Non-Clogging Level Sensor/Transmitter

• AST4530 Submersible Pressure Transducer for Chemical Tank Level

• AST4600 Explosion Proof Pressure Transmitters, CSA Class 1, Div. 1



The SIL process and rating simplify what systems use to predict failure and system maintenance. SIL2 devices were traditionally used in the downstream oil and gas and chemical process industry, but have seen greater importance in upstream applications to ensure safety and reliability requirements are met.



For more information on American Sensor Technologies and its SIL2 rated pressure sensors, please visit the website at www.astsensors.com or contact Greg Montrose at 973-448-1901 or info@astsensors.com



About American Sensor Technologies, Inc.

American Sensor Technologies, Inc. (AST) manufactures pressure sensors, transducers, transmitters and switches for pressure and level measurement with the best price to performance ratio in the industry. With pressure ranges from 5 inches of water column to 60,000 PSI and various material and output signal options, AST can design a standard or custom pressure sensor for liquids and gases that is cost-effective and reliable. Manufactured in New Jersey, AST pressure sensing products are built with a full selection of approvals including: ABS, Explosion-proof, Intrinsically Safe, and Non-Incendive ratings. For more information on AST pressure transducers and transmitters, please visit www.astsensors.com or email info@astsensors.com.



More from Mechanical Power Transmission