American Dryer eXtremeAir® ADA comes with adjustable speed and sound.
Press Release Summary: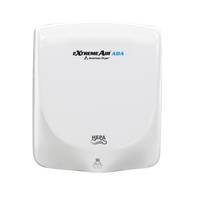 Designed with high intensity single port nozzle to deliver 12-second dry time, ADA compliant, surface mounted eXtremeAir ADA Hand Dryer consumes only 950 watts of power. Including HEPA filtration system and antimicrobial technology, device operates on global universal voltage ranging between 100 to 240 volts. Offered in white, black or brushed stainless steel finishes, eXtremeAir provides low noise functionality and can be fitted in any restroom environment.
---
Original Press Release:
American Dryer Introduces eXtremeAir® ADA
A Feature-rich, Affordable Surface Mounted ADA Compliant Hand Dryer
American Dryer, a global leader in the design and manufacture of high-speed hand dryers, today announced the general availability of eXtremeAir® ADA, an energy-efficient surface mounted hand dryer that delivers the ADA compliance required in today's facilities as well as all the additional features important to every restroom environment.
The eXtremeAir ADA is designed with a high intensity single port nozzle that delivers a fast 12-second dry time and the energy efficiency of only 950 watts of power. The addition of a HEPA filtration system and antimicrobial technology is designed to reduce contaminates in the air while drying, answering the need for a more comfortable user experience. Ease of installation is also built into the design because eXtremeAir ADA offers global universal voltage and a choice of a white, black or brushed stainless steel finishes, fitting the décor of any restroom environment.
Key features of eXtremeAir ADA include:
High Speed – Dries hands in as little as 12 seconds
Adjustable Sound & Speed – Adjust the sound and speed of each model to your preference—providing the sound sensitivity needed for any environment
Universal Voltage – Accommodates any voltage between 100-240 volts
Easy installation – Simple surface mounted installation reduces time and cost of install
Cost Effective – All of this for less than the leading brand
"We are excited to introduce this versatile addition to our eXtremeAir Series of hand dryer series of innovative products. American Dryer's eXtremeAir ADA is designed to offer everything needed to ensure it meets the requirements of varying environments while delivering the exceptional customer experience that is so important today," said Kevin Summerlee, manager, American Dryer Products.
About American Dryer
American Dryer, Inc. is a leading manufacturer of hand dryers, providing affordable and innovative solutions to the hand drying industry for more than 60 years. American Dryer's compact, high-speed eXtremeAir Series hand dryers feature a 10-15 second dry time, use 80-90 percent less energy than conventional hand dryers and provide up to a 98 percent cost savings versus paper towels. For more information, visit www.americandryer.com.
Related