American Crane's Single Failure Proof Cranes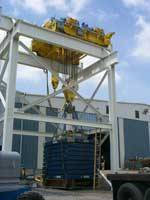 American Crane and Equipment's Single Failure Proof Cranes can be built in accordance with our 10CFR50 Appendix B Quality Assurance Program, consistent with the requirements of NUREG 0554, assuring a licensable design.

Features Include:

Triple Redundant Holding Brakes

Redundant Reeving System (Dual Load Path)

Redundant Hoisting Machinery

Two Blocking Protection

Load Hang Up Protection

Overload Protection

Wire Rope Mis-Spooling Protection

Flux Vector Infinitely Variable Frequency Drives

NCR Accepted Single Failure Proof Design

Single Failure Proof Lifting System Compliant with NUREG 0554, NUREG 0612 and ASME NOG-1.

Site Specific Seismic Design

Our Single Failure Proof Crane designs are suitable for new and existing facilities and can be built for any application.

To learn more about our Single Failure Proof Cranes visit http://store.americancrane.com/category/american-crane-single-failure-proof-cranes&bc=100%7C3350%7C3438 or call us at 1-877-877-6778 or email us at sales@americancrane.com. Visit our home page www.americancrane.com to view all our products and services.