American Aerospace Controls Recognized by Lockheed Martin Aeronautics for 100% Product Quality Conformance and On-Time Delivery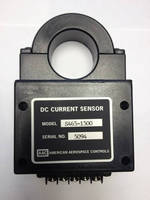 Farmingdale, NY, USA — American Aerospace Controls (AAC) (www.a-a-c.com), an AS9100C and ISO9001 certified manufacturer of standard and custom AC and DC current, voltage, frequency and power transducers, today announced its recognition by Lockheed Martin Aeronautics, a world leading designer and manufacturer of high-performance combat, air mobility, surveillance and reconnaissance aircraft, for 100% product quality conformance and on-time delivery in 2013.



Established in 1965 in Farmingdale, New York, AAC is a privately held and 100% women owned small business, with all products made in the USA. The company's extensive in-house engineering expertise has supported dozens of flight test programs, implementing its highly stringent product development and testing protocols that meet MIL-STD-461, MIL-STD-202, MIL-STD-810, EN50121.3.2, RTCA/DO-160 and other global quality and performance standards. AAC products are commonly specified within the following aerospace related AC and DC current and voltage monitoring applications:



Aircraft carrier control systems. Typically installed below deck, AAC transducers are used to monitor onboard current and voltage levels, including system power sufficiency levels, while providing critical power system health verifications, with transducers conforming to MIL-STD-461 noise susceptibility requirements.



Commercial aircraft electrical management systems. AAC transducers are specified for use on board commercial aircraft to monitor and measure current and voltage; indicate potential overage conditions; detect ground faults; and offer electrical system health checks. The devices also monitor and measure overload currents of various onboard electrical equipment, including aircraft kitchen galley power sources, while conforming to both RTCA/DO-160 and MIL-STD-202 requirements.



Helicopters and rotorcraft. AAC current sensors monitor critical helicopter and rotorcraft DC electrical levels within onboard power control logic systems. They typically support redundant back-up systems that protect against helicopter power loss by monitoring and indicating potential power failure conditions. They also measure converted current levels within uncontrolled environments that are characterized by extreme environmental conditions and airframe induced shock and vibration. AAC transducers conform to specified Electromagnetic Environmental Effects, in accordance with MIL-STD-461 and RTCA/DO-160.



UAVs and Spacecraft:  For more than 30 years, AAC has been an industry leader in the design and manufacture of high-reliability radiation hardened current and voltage sensors for both manned and unmanned spacecraft, monitoring the electrical current and voltage levels within primary and backup fuel cell, solar cell and photovoltaic power systems.



Notes AAC Vice President of Sales, Kevin McBrien, "The team at American Aerospace Controls is grateful for the business of Lockheed Martin Aeronautics, and for this recognition. As part of our commitment to all customers, AAC prides itself on careful attention to quality and on time delivery, as well as excellence in workmanship and continuous product design improvements, in accordance with AS9100C and ISO9100 standards. We look forward to continuing this excellence in 2014."



For more information about AAC and its product offerings, or to request a free application analysis, visit www.a-a-c.com.





Related