Amcor Rigid Plastics and Confrérie Clinique Collaborate on Unique Electronic Pill Dispenser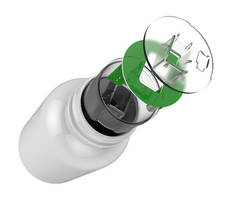 Intelligent Bottle System Offers Single Tablet Dispensing and Easy Tracking and Monitoring for Effective Drug Compliance
CHICAGO, November 6, 2016 - Amcor Rigid Plastics, the world's leading producer of rigid plastic packaging, has collaborated with Netherlands-based Confrérie Clinique, a leader in smart packaging solutions, to develop an innovative pill dispensing system that delivers drug compliance, user friendliness, child and senior citizen safety, and connection to any smartphone for easy tracking and monitoring. Amcor made the announcement at the Pack Expo International show (Booth #N-4981) Nov. 6-9 in Chicago.
The "S.M.R.T. Bottle" is a pill dispensing system that includes a clock-calendar function and unit dose tablet detector. It registers the time and date and number of doses taken from the bottles and stores the data. Using devices such as Near Field Communication (NFC) readers, the information contained in the memory can be read, displayed, and transmitted to any smartphone.
The innovative pill dispensing solution is a container that combines the benefits of a blister pack and a bottle in one package, according to Greg Rosati, Amcor's marketing director for healthcare. "The pill dispenser is a major technological advancement that not only offers effective pill dispensing but also digital communication to ensure patient adherence," said Rosati.
The two-piece assembly developed by Amcor and Confrérie Clinique can be designed for any pill bottle and existing filling lines with no changes required to the sealing process. Amcor injection molds the PP insert which is custom designed to match the tablet geometry. The dispenser's electronic system, custom designed and built by Confrérie Clinique, counts pills going in or out of the bottle, tracks the temperature of the container, and ensures product integrity. It is equipped with a near frequency network communication and connected to a smartphone app that can be viewed by a physician or care giver to ensure patient medication compliance.
In addition to the track and trace features, the device is also easier for seniors to remove tablets from the container and is safer for children because it makes multiple pill removal very difficult and nearly impossible to remove the desiccant canister preventing accidental ingestion.
The electronic pill dispenser is currently undergoing field trials at leading pharmaceutical companies and Amcor expects the system to be commercialized in 2017.
About Confrérie Clinique
Based in the Netherlands, Confrérie Clinique is focused on improving patient therapy adherence (compliance) with smart packaging solutions. The company is active in the field of smart solutions for therapy compliance issues and (medical) supply chain monitoring. Confrérie Clinique has developed and patented the Mediccine™ system which can be used for serialization and authentication, to track and trace medication, to monitor the temperature under which the medication is stored, and to monitor the therapy compliance of patients.
Confrérie Clinique's Mediccine™ system includes electronically enhanced packaging for medication which can communicate via NFC (Near Field Communication) with smart phones and dedicated scanners and readers. The data gathered can then be uploaded via a secure internet connection to the Mediccinet™ database for analysis by the physician or point-of-care. Confrérie Clinique's mission is to further develop and market e-communicative packaging solutions and to be the market leader in this field.
For more information, visit www.confrerie-clinique.com.
About Amcor
Amcor Limited (ASX: AMC; www.amcor.com) is a global leader in responsible packaging solutions, focusing on a broad range of flexible and rigid plastic packaging that enhances the products consumers use in everyday life, with 95 percent of its sales into the food, beverage, healthcare and tobacco industries. The company employs more than 31,000 people worldwide, operating in 40-plus countries and across more than 190 sites. For details, visit www.amcor.com.
Company Contact:
Michael Hodges
Director, Communications
(734) 302-2503
Media Contact:
Joe Grande
J. Grande communications Inc.
(413) 684-2463
More from Cleaning Products & Equipment