AMC902 IF Signal Conditioning Unit provides programmable gain.
Press Release Summary: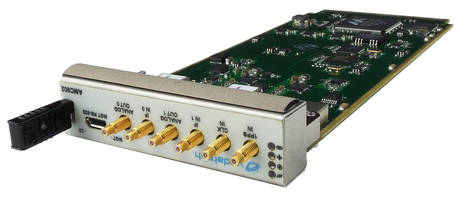 Combined with MicroTCA sub-system for radar, SIGINT and data acquisition applications, AMC902 dual-channel IF Signal Conditioning Unit is controlled by using on-board management processor through base interface GbE or front-panel management port. Product can be used up to 15 GHz bandwidth and 56 GSPS. AMC902's backplane is rooted with clock inputs via crossbar switch.
---
Original Press Release:
VadaTech Launches a Dual-Channel IF Signal Conditioning Unit
VadaTech, a leading manufacturer of integrated systems, embedded boards, enabling software and application-ready platforms, announces the AMC902, a dual-channel IF signal conditioning unit providing programmable gain/attenuation. The module allows analog signal conditioning to be integrated into MicroTCA sub-systems for radar, SIGINT and data acquisition applications. The gain/attenuation applied to each channel is controlled by an on-board management processor accessed via base interface GbE or a front-panel management port. In addition, clock inputs are routed to the backplane via a crossbar switch to provide flexible routing options.
The AMC902 joins a growing range of signal conditioning and conversion modules addressing up to 15GHz bandwidth and up to 56 GSPS.
About VadaTech
VadaTech provides innovative embedded computing solutions from board-level products, chassis-level platforms, to configurable application-ready systems. With a focus on AdvancedTCA, MicroTCA, VPX and PCIe solutions, the company offers unmatched product selection and expertise. A unique combination of electrical, mechanical, software, and system-level expertise, enables VadaTech to provide customized commercial or rugged computing solutions to meet the most complex customer requirements. VadaTech also offers specialized product solutions for VME, CompactPCI, and other architectures. A member of PICMG and VITA, VadaTech has headquarters, design and manufacturing facilities in Henderson, NV with design, support and sales offices in Europe and Asia Pacific.
Contact:
Ian Shearer
VadaTech, Inc.
198 N Gibson
Henderson, NV 89014
702-896-3337
More from Material Handling & Storage