AMC52-QI Duplex Cable Connector features quick-installation and quick-removal capabilities.
Press Release Summary: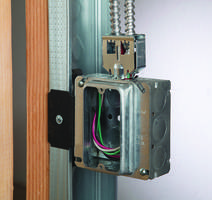 Bridgeport Fitting's AMC52-QI duplex cable connector can connect a box or enclosure to two AC/MC/MCI-A/HCF/HCFMCI-A/MC-PCS cables (with diameters between .43" and .59") or two .375" FMC cables. The zinc-plated steel connector is built for simple installation and requires no tools to attach. Contractors need only squeeze and set the connector, allowing cable installations far faster than traditional AMC-style connectors. AMC52-QI is well suited for use with prefabricated and lighting whips.
---
Original Press Release:
Bridgeport's new AMC52-QI duplex EZ-Lock™ connector makes cable installations faster than ever, with no tools required
STRATFORD, Conn. (Aug. 14, 2017) – Bridgeport Fitting's AMC52-QI EZ-Lock duplex cable connector is a new addition to Bridgeport's family of quick-install fittings. Contractors simply snap the duplex connector onto the cable, squeeze the lever and set into the knockout. The lever action also allows for easy, quick removal.
No tools are required with the AMC52-QI duplex connector and the Bridgeport solution takes a fraction of the time to install compared with traditional AMC-style connectors.
Bridgeport's patent-pending, cETLus Listed AMC52-QI quick-install connector is made of zinc-plated steel, and is used to connect two 14/2 to 10/2 (.43" - .59" diameter) AC/MC/MCI-A/HCF/HCFMCI-A/MC-PCS cables or two 3/8" FMC cables to a box or enclosure. The solution is a perfect alternative for prefab and lighting whips.
The AMC52-QI EZ-Lock connector is one of Bridgeport's latest additions to the "Wall of Orange™" – Bridgeport's completely stocked selection of quality electrical fittings and innovative product solutions available from major electrical distributorships across the U.S. and Canada.
To learn more about the AMC52-QI E-Z Lock system, click here.
For information about Bridgeport's other solutions that help contractors become more productive on the job site or in the shop, contact: Bridgeport Fittings, Inc., 705 Lordship Blvd., Stratford, CT 06615; Tel: (203) 377-5944; Fax: (203) 381-3488; or visit Bridgeport's website at http://www.bptfittings.com. 
Related