Ambiance Lighting targets hospitality, retail environments.
Press Release Summary: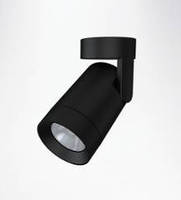 Able to convert from accent to pendant and back in field, LED Cynch consumes 6 W and delivers up to 375 lm for 58 lm/W efficacy with CBCP of up to 4,633. Magnetic connection – disconnecting electrical and mechanical connection – allows change with one pull, while geometric profile conceals 12 V LED driver for 120/277 V systems for optimal performance. Beam spreads range from 13° to 28°, with 0° to 90° vertical tilt and 360° rotation, and available CCTs include 2700K, 3000K, 3500K, and 4000K.
---
Original Press Release:

Cynch by Amerlux Makes Setting the Mood Simple; Hospitality Ambiance is Made Easy



OAKLAND, N.J. -- The new LED Cynch by Amerlux changes the game in hospitality and retail environments. Designers love its versatility because Cynch converts instantly from accent to pendant and back again, right in the field. The magnetic connection allows a quick change with one pull, disconnecting the electrical and mechanical connection while its clean, compact geometric profile conceals an integral driver for ultimate performance. Cynch is easy to maintain and available in many styles.



"Our new Cynch helps well-accented restaurants create visual moods for patrons in settings ranging from romantic and business-elegant, to family-style," explains Amerlux CEO/President Chuck Campagna. "This new luminaire enhances a strategically accented selling floor to inspire customers to buy a little more than they came for, building incremental sales for retailers. It's accent lighting in a cinch."



The new Cynch is a small, simply styled accent luminaire that operates as a pendant, surface mount, and semi-recessed or recessed on its own or in a recessed multiple. It can also be used as an accent installed within a linear trough or pendant. Engineered with an integral 12-volt LED driver for 120/277v systems, the fixture installs easily with a magnetic connection and is perfect for creating visual ambience in newly constructed restaurants, hotels, resorts and retailers.



The luminaire is 1.5 inches in diameter and 3 7/16 inches tall. Using just six watts, Cynch delivers up to 375 lumens and 58 lumens per watt, with a CBCP of up to 4,633. Beam spreads range from 13° to 28°, with 0 to 90° vertical tilt and 360° rotation. CCTs are offered in 2700K, 3000K, 3500K and 4000K; a high CRI is delivered up to 92 in 2700K and 3000K color temperatures.



The LED Cynch is crafted with a complete die-cast optical head and no exposed wires.  The fixture also features stamped steel mounting frame with integral mounting bars and a steep upper and driver housing with laser-cut trim. The luminaire is available in a single mount, two or three light recessed multiple, fully recessed, semi recessed, or flush mount.



"Hotels, restaurants, retailers, and their lighting designers deeply understand how lighting impacts customers," continued Mr. Campagna. "They know that the right light drives customer decisions and influences buyer behavior."



Finishes includes matte white, matte black and matte silver.



About Amerlux LLC

Amerlux creates lighting designed around its customers and will stop at nothing to help realize their vision. Amerlux works closely with customers every step of the way, from design through construction, to ensure total success and total satisfaction. Amerlux is fueled by a passion to consistently deliver in a fraction of the time of competitors, even on short-run custom orders, and that includes making sure every order is accurate, every product performs flawlessly, and every customer is successful.



Amerlux speaks the language of light for design and construction professionals around the world by manufacturing a broad array of optically superior, energy efficient lighting solutions for the retail, supermarket, hospitality, commercial and exterior lighting markets. Amerlux products and services include track lighting, recessed downlighting and multiples, pendants, linear systems, and custom lighting solutions, as well as support for energy reduction plans that can be used as a guide to state, city and local utility rebate programs for maximum energy savings and utility incentives. The company's domestic and international clients receive the support of Amerlux's highly trained specification sales force, as well as expert service from initial design to on-time delivery made possible by strategically located manufacturing, warehousing and shipping locations.



Contact:

AMERLUX, LLC

178 Bauer Drive 

Oakland, New Jersey 07436

www.amerlux.com

info@amerlux.com

T 973.882.5010

F 973.882.2605

More from Electronic Components & Devices