AMADA MIYACHI AMERICA to Showcase the Latest Laser and Resistance Welding and Processing Technology at MD&M West 2018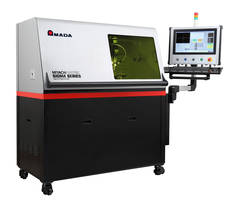 Equipment ideal for precision medical applications on display at Booth #2801
MONROVIA, CA – AMADA MIYACHI AMERICA, INC., a leading manufacturer of welding, marking, cutting, sealing, and bonding technology, will be highlighting its Sigma Femtosecond Laser Tube cutting system in Booth #2801 at MD&M West, which takes place Feb 6-8, 2018 at the Anaheim Convention Center, in Anaheim, CA. Also to be showcased is the popular LMWS Laser processing workstation paired with the LMF20-HP fiber laser for marking and engraving, the Delta Series laser welding workstation with the LF500 fiber laser welder and, UB29 linear DC micro welder paired with the Series 320 electronic resistance spot welding head, and the Advanced Data Analysis Monitor.
Visitors to the booth can see the Sigma Femtosecond Laser Tube cutting system, which offers best in class cut quality. Using cold ablation cutting, the Sigma produces unrivalled edge quality that significantly reduces post processing costs. The Sigma is ideal for medical device applications, including a wide range of diameter tubes and stents. The system will be shown with an integrated tube feeder.
The LMWS on display is a versatile compact unit designed for lean manufacturing, which offers the widest range of processing capabilities in its class. The LMWS will be shown integrated with AMADA MIYACHI's popular LMF20-HP fiber laser, a precision engraving system for marking metal and plastic parts. This configuration is a good choice for making UDI-compliant marks.
The Delta Series laser welding system is a workstation for precision laser spot and laser seam welding in a flexible, low cost, lean manufacturing-ready Class I environment. The Delta will be shown with the LF500 laser welder. Ideal for micro spot welding, seam welding and precision cutting, the LF500 is a good choice for medical spring attachment and medical component assembly.
Also on display will be the industry-leading UB29 linear DC micro welder, offering precision control for micro-miniature resistance welding. The UB29 is a perfect choice for wire assemblies, sensors, connectors, squibs, catheters, orthodontic appliances, pacemakers, implantable hearing devices, and battery packs. The Series 320 electronic high precision low force resistance spot welding heads to be shown are designed specifically for applications requiring precise position and force control. These units are paired with the Advanced Data Analysis Monitor, which monitors what happens during the weld, as well as what happens before the weld is triggered, offering a 360-degree view of the process. Sophisticated SPC capabilities enable customers to analyze and collect data. Other key features include current, voltage, power, resistance, force and cover gas flow monitoring; high resolution sensors; pre-and post-trigger viewing; envelope limits; and Ethernet communications capability.
About AMADA MIYACHI AMERICA
Since 1948, AMADA MIYACHI AMERICA, Inc. has worked to achieve one goal: to solve customer's manufacturing challenges. Knowing there is no one solution that fits all, the company strives to provide customers with innovative and reliable manufacturing technology solutions in an effort to be their single source provider. AMADA MIYACHI AMERICA manufactures equipment and systems for resistance welding, laser welding, laser marking, laser cutting, hermetic sealing and hot bar reflow soldering and bonding. The company serves a wide range of markets including medical devices, battery, aerospace, automotive and electronic components. AMADA MIYACHI AMERICA is an ISO9001 certified company. Contact AMADA MIYACHI AMERICA at infor@amadamiyachi.com. Learn more about the company's products and services at www.amadamiyachi.com.
Contact This Company Download Spec Sheet
More from Welding Equipment & Supplies