AMADA MIYACHI AMERICA Secures Large Order for Laser Micromachining Systems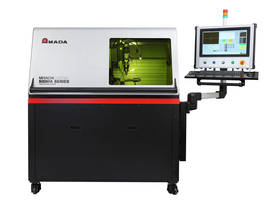 Medical device manufacturer to install equipment in US production facility
MONROVIA, CA – Amada Miyachi America, Inc., a leading manufacturer of welding, marking, cutting, sealing and bonding technology, announces that it received a multi-million dollar, multi-system order for ultrashort pulse laser micromachining equipment to be installed in a major United States-based medical device manufacturer.
Each laser micromachining system includes a femtosecond (or ultrashort pulse) laser, galvo scanning beam delivery, vision system, and a conveyor to transport the part into and out of the process area.
"As a result of our significant investment in personnel and equipment, we offer a leading edge vision in laser micromachining. When customers visit our manufacturing facilities to work with our engineering staff in our dedicated advanced technology center, they quickly see they have found the right partner for success." said David Fawcett, Amada Miyachi America's President and CEO. "This major order is not only the culmination of process development with this customer but also a stepping stone to more laser micromachining opportunities where we can deliver best in industry equipment, long term support, and process consultation,"
To learn more about the support Amada Miyachi America can provide for a wide range of laser micromachining projects, go to http://www.amadamiyachi.com/products/laser-micromachining.
About AMADA MIYACHI AMERICA
Since 1948, Amada Miyachi America, Inc. has worked to achieve one goal: to solve customer's manufacturing challenges. Knowing there is no one solution that fits all, the company strives to provide customers with innovative and reliable manufacturing technology solutions in an effort to be their single source provider. Amada Miyachi America manufactures equipment and systems for resistance welding, laser welding, laser marking, laser cutting, hermetic sealing and hot bar reflow soldering and bonding. The company serves a wide range of markets including medical devices, battery, aerospace, automotive and electronic components. Amada Miyachi America is an ISO9001 certified company. Contact Amada Miyachi America at info@amadamiyachi.com. Learn more about the company's products and services at www.amadamiyachi.com.
Barbara Kuntz
AMADA MIYACHI AMERICA, INC.
626-930-8560
barbara.kuntz@amadamiyachi.com
CONTACT:
Kristin Nugent
McNeil, Gray & Rice Inc.
617-367-0100 ext. 148
Related