Welding Rods, Wire and Electrodes
Aluminum Welding Wires meet AWS Specification A5.10.
Press Release Summary: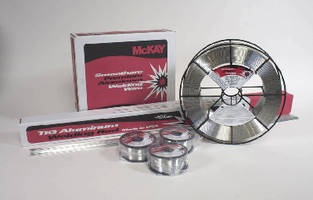 Suitable for welding on heat exchangers, food manufacturing equipment, and transportation equipment, Smootharc(TM) 5356 consists of magnesium-based alloy that resists hot cracking, while Smootharc(TM) 4043 features higher level of silicon for optimal wetting action, and also resists weld cracking. Both wires are available in .030, .035, and 3/64 in. diameters on 1 lb spools or 12 and 16 lb reels. TIG cut-lengths are available in 1/16, 3/32, and 1/8 in. diameters in 36 in. lengths.
---
Original Press Release:

Hobart Brothers Adds Aluminum Filler Metals to Its Popular McKay Brand



TROY, Ohio. March 12, 2009-Hobart Brothers announced that it has added two new lines of aluminum solid welding wires and TIG cut lengths, Smootharc(TM) 4043 and Smootharc 5356 to its popular McKay® brand of filler metals. The company joined in a strategic relationship with Maxal Aluminum to offer the new products, which it considers to be the most technically advanced aluminum filler metals available in today's marketplace.

The new Smootharc products all meet the requirements of AWS (American Welding Society) Specification A5.10, making them useable for critical welding on heat exchangers, food manufacturing equipment, transportation equipment, boating and shipyard applications.

Smootharc 5356 is a magnesium-based alloy that provides good strength for structural applications, especially those in the transportation field, and it resists hot cracking that could lead to costly rework. Smootharc 5356 is also suitable for components that need to be anodized. Smootharc 4043 also resists weld cracking, and its higher level of silicon provides good wetting action, making it easy for welding operators to use.

Both Smootharc solid wires are available in .030-, .035- and 3/64-inch diameters
on 1-lb spools or 12- and 16-lb. reels, all of which are shipped in a heavyweight, reusable plastic bag and a sturdy double-wall package to protect the wire from contamination.

The Smootharc TIG cut-lengths are available in 1/16-, 3/32- and 1/8-inch diameters in industry-standard 36-inch lengths, and feature the alloy number (4043 or 5356) stamped on each end, every 12 inches. The cut-lengths ship in 10-lb. boxes with four to a master package constructed of the same durable double-wall material as the spools and reels.

The cut-length package features the additional benefit of a unique zip opener that removes approximately 8 inches of the carton, which welding operators can then use to re-cap the package, protecting the remaining cut-lengths from the atmosphere. In addition, the packaging features an inner liner that holds the cut-lengths snugly in place to prevent rubbing that can lead to fretting corrosion.

McKay has been known as a leading brand in premier specialty welding alloys, including stainless steel and hard surfacing products, since 1881.

Hobart Brothers is dedicated to the highest level of Performance Welding(TM). For product specification sheets or to learn more about Hobart Brothers and McKay brand products, visit Hobartbrothers.com, call 1-800-424-1543, fax 1-800-541-6607, or write Hobart Brothers Company, 101 Trade Square East, Troy, OH 45373.

Hobart Brothers Company of Troy, Ohio, is a leading manufacturer of welding filler metals marketed under the brand names Hobart, Tri-Mark, McKay and Corex. Hobart Brothers Company is a wholly owned subsidiary of Illinois Tool Works, Inc. Based in Glenview, Ill., ITW is a multinational manufacturer of a diversified range of value-adding and short lead-time industrial products and equipment.

More from Services