Aluminum Tri-Adjustable Portable Cranes are made of steel.
Press Release Summary: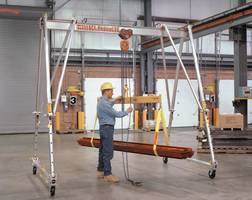 Available in ½ ton to 3 ton capacity, Aluminum Tri-Adjustable Portable Cranes provide height adjustability from 21 ft. 7 in. to 15 ft span. Suitable in chemical, optical, and electronic clean rooms, units are adjusted in height, span and caster frame speed and come in non-marking and non-sparking wheels.
---
Original Press Release:
Wallace Cranes New 1/2 Ton to 3 Ton Aluminum Tri-Adjustable Portable Cranes Can Adjust 3 Different Ways.
A proprietary self-centering beam support design provides significant advantages over more rigid beam suspension methods in other, less advanced, mobile crane designs. Three-way adjustability includes Height, Span, and Caster Frame spread. These all steel models are available in capacities from one-half ton through three tons, height adjustable to 21 ft. 7 in., spans adjustable to 15 ft.; including non-marking and non-sparking wheels. This is the most popular Wallace portable gantry crane. Current applications include use in chemical, optical, and electronic clean rooms. Other "high-end" users are particle physics researchers. Yet another user group employs this easy-to-assemble crane for pump and motor maintenance in wastewater treatment plants. Wherever you need a high-capacity, lightweight lifting solution, the aluminum Tri-Adjustable is ideal for maintenance, manufacturing, repairs, and other materials handling tasks. With an adjustable height and/or span, a single crane can provide a flexible lifting solution. Many customers use our cranes for HVAC, assembly, and repairs of physical plant equipment. Other users include electric utilities, municipal maintenance (including subways, buses, and building facilities), research institutions, and the military for routine maintenance of heavy equipment.
About Wallace Cranes www.wallacecranes.com
Wallace Cranes have a reputation that's unmatched in the lifting industry. With over 50 years of designing, building and shipping gantries all over the world, Wallace Cranes has earned the reputation of having--MORE GANTRIES STILL IN USE--than any other manufacturer. We Design, Build, and Ship premium quality Portable Gantry Cranes across the nation and around the world from our Malvern, PA headquarters. We rely on our own equipment, such as the 5 Ton Tri-Adjustable unit (right).
Contact:
71 N Bacton Hill Road
Malvern, PA 19355-1005
Voice: 610-647-1400
Toll Free: 800-553-5438
Fax: 610-644-9043
More from Material Handling & Storage