Aluminum Profiles offer three 90° connection options.
Press Release Summary: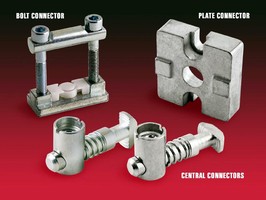 Series 45 T-slotted aluminum profiles are offered with Bolt Connectors, made of die cast zinc with zinc plated steel bolts and screws and feature anti-slip nylon clip that facilitates vertical orientation. Central Connectors, made of zinc plated steel in vertical or horizontal nut orientations, have conical point set screw in threaded barrel that seats in spring-loaded nut shaft. Plate Connectors, made of die cast zinc, are available with natural or powder-coated finish.
---
Original Press Release:

80/20® Offers New Connecting Options for 45 Series Aluminum Profiles



80/20® has three new fastening choices for making 90 degree connections when using their new 45 Series T-slotted aluminum profiles.

Bolt Connectors, made of die cast zinc with zinc plated steel bolts and screws, provide a very strong 90 degree connection. The anti-slip nylon clip on the t-nut makes vertical orientation connections hassle-free. Two M6 SHCS, in opposite T-slots, run through the steel barrel that is placed in the required
machined hole of the profile.

Central Connectors, made of zinc plated steel, are available with vertical or horizontal nut orientations. The conical point set screw in the threaded barrel
seats in the spring-loaded nut shaft which is loaded in the profile's end. Black cover caps are available to conceal the required hole machined in the profile.

Plate Connectors, made of die cast zinc, are available with a natural or powder-coated finish. One M12 BHSCS fastens the plate to the end of the profile. Two M6 SHCS with drop-in T-nuts are used to connect the mating profile. A self-tapping M12 BHSCS is available for a "no machining required" connection.

To learn more about 80/20®'s fasteners, connectors and T-slotted aluminum framing profiles, visit www.8020.net or contact:

80/20® Inc.
1701 South 400 East
Columbia City, IN 46725-8753
Phone: 260-248-8030 or 877-248-8020
Fax: 260-248-8029 E-mail: info@8020.net
Web Site: www.8020.net
Contact: Jessica Tate