Aluminum Panel Clips facilitate flush mounting of objects.
Press Release Summary: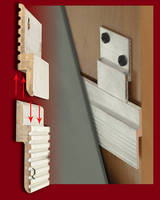 Aluminum Panel Clips help builders, contractors, and renovators hang cabinets, wall panels, partitions, signs, and frames. While upper portion attaches to back of object to be hung, lower clip attaches to mounting surface. Pieces connect and lock together by lowering upper clip into groove of lower clip, allowing secure installation within minutes. Design also readily allows items to be demounted as required. Installed items rest flush against any mounting surface.
---
Original Press Release:

Outwater Introduces its Aluminum Panel Clips for Cabinets, Wall Panels, Partitions, Signage and Frames



Bogota, NJ (www.outwater.com) — Don't get hung up hanging cabinets, wall panels, partitions, signage or frames.  Conventional, dated hanging methods are now a thing of the past with Outwater's [Outwater Plastics Industries, Inc. + Architectural Products by Outwater, LLC newly introduced Aluminum Panel Clips, the quickest, easiest and most cost effective way for hanging anything you hate to hang.



With the current trend of bathroom floor cabinets and their once integrated sinks having gained independence from one another as of late has not only inspired new cabinet fashions comprising contemporary standalone sinks and "floating" cabinets, it is now also the cause of many headaches for builders, contractors and renovators, who must now expend additional time and effort to permanently and securely affix these large, heavy structures to the walls in which they are intended to be mounted.  Not surprisingly, the same mounting difficulties also hold true for wall panels, partitions, signage and frames, all of which can be very challenging to affix as well.



Prior to the introduction of Outwater's new line of Aluminum Panel Clips, hanging cabinets, wall panels, partitions, signage and frames used to be quite an ungainly, time consuming and labor intensive chore.  First, builders, contractors and renovators had to draw exacting, horizontal lines to serve as a template followed by their then having had to drive long screws into studs or mount a ledger board on which to temporarily rest these large, unwieldy items for support during installation.  Items would then be screwed into the studs or fastened to supports in multiple locations and then shimmed for leveling or filling gaps if necessary.  In utilizing this obsolete method, necessary experience was a given, in that without it, there was always some probability of encountering unforeseen stumbling blocks.



However, Outwater's Aluminum Panel Clips enable quick and easy installations with labor and overall cost savings reduced by as much as 50%.  Builders, contractors and renovators now only have to attach the upper portion of the Aluminum Panel Clip to the back of the object to be hung and the lower Aluminum Panel Clip to the mounting surface to prepare the item for installation.  Cabinets, wall panels, partitions, signs and frames can now be securely and solidly affixed in just minutes using Outwater's Aluminum Panel Clips, which connect and lock together by merely lowering the upper Aluminum Panel Clip that has been attached to the object to be hung into the groove of the lower Aluminum Panel Clip that has been fastened to the intended mounting surface.  In addition, unlike typical hanging methods, which are inherently permanent, Outwater's Aluminum Panel Clips readily allow items to be demounted as required.



Outwater's Aluminum Panel Clips are stocked in eight different profiles in mill finished, extruded aluminum 4-ft., 8-ft. and 12-ft. lengths and 1-1/2-in., 2-in. and 2-1/2-in. precut pieces both with and without predrilled holes (Holes are 3/16-in. diameter and accommodate #10 screws), permitting installed items to rest flush against any mounting surface.



Outwater also offers a small, handy, inexpensive acrylic Bubble Level that can be used for leveling Outwater's Aluminum Panel Clips on any horizontal surface.



For further product information, please click the enclosed link:



Link #1: Aluminum Panel Clips



http://www.outwatercatalogs.com/lg_display.cfm/catalog/Master_Catalog_Vol_42?useSearchForm=single&page=61



About Outwater [Outwater Plastics Industries, Inc. + Architectural Products by Outwater, LLC: Outwater can be contacted Toll Free at 1-800-631-8375 (For sales and product information in the USA & Canada) / 1-201-498-8750 (For sales and product information outside of the USA & Canada) or viewed online at www.outwater.com



From the vendor of a single product in August 1972, Outwater, with sales and distribution facilities in New Jersey and Arizona, is recognized today as a well established international manufacturer and stocking distributor of more than 65,000 standard and innovative component products required by woodworkers, cabinet and furniture manufacturers, builders, remodelers, designers, architects, point-of-purchase and display fixturing manufacturers, OEM's, as well as a diversified range of other commercial and retail end users.



Major Product Categories include Plastic & Aluminum Extrusions; Lighting and Lighting Accessories; Furniture, Cabinet & Store Fixture Components; Knobs & Pulls; Casters; Fasteners; Laminates; The FOGA Exhibit & Display Fastening System; The Klem Connector; Literature Displays; Slatwall; Sign Holders; P.O.P Components; Display Motors & Turntables; Pedestals; Injection Molded Parts; Brass Tubing & Fittings; Surfacing Materials; Interior & Exterior Polymer & Wood Architectural Mouldings & Millwork; ORAC DECOR and DEM Architectural Mouldings & Millwork; Columns & Capitals; Balustrading; Wrought Iron Components; Decorative Stamped Steel & Polymer Ceiling Panels; Wainscoting; Wall Coverings; Fireplace Surrounds; Plastic "Glass" Block; Period & Contemporary Hardware; Kitchen & Bath Accessories; Kitchen & Bath Cabinetry and Vanities… and so much more!



Contact:

Joey Shimm, Director of Marketing

Outwater Plastics Industries, Inc. + Architectural Products by Outwater, LLC

(201) 498-8750

More from Printing & Duplicating Equipment