Aluminum Melting and Holding Furnace has 13,700 lb max capacity.
Press Release Summary: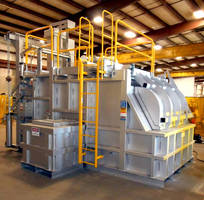 Along with steel plate construction and steel member-reinforced shell, aluminum melting and holding furnace (gas fired) features roof-mounted, nozzle-mix radiant burner; pneumatic flue damper; drain tap; and UL-listed control panel. Holding capacity is 13,700 lb, and melting rate is 1,500 lb/hr. While preheat hearth with full width door is used for loading ingot, clamshell door is used for loading scrap. Dip well on each side provides molten aluminum to 2 die casting machines.
---
Original Press Release:

Lindberg/MPH Builds Aluminum Melting and Holding Furnace for Leading Outdoor Equipment Manufacturer



Riverside, MI – Lindberg/MPH announced the shipment of a gas fired, aluminum melting and holding furnace for a leader in the lawn and garden industry. Unique features of this furnace include:



• Rugged steel plate furnace construction

• Belly band lining inert to aluminum oxide formation

• Roof mounted nozzle-mix radiant burner

• Two full width doors

• Two dip wells

• Pneumatic flue damper mechanism

• Drain tap

• Two dip well covers

• UL listed control panel

• Ladder and access grating to service roof mounted components.



The furnace has a holding capacity of 13,700 lbs and a melting rate of 1,500 lbs/hr. The industrial furnace shell is ruggedly reinforced with steel members to form boxed sections sufficient for a die casting facility environment. The aluminum holding and melting furnace includes a hot face castable around the belly band that is microporous and inert to aluminum oxide formation. A preheat hearth with a full width door is included for loading ingot and the opposite side of the furnace includes a clamshell door for loading scrap. Both doors are powered by air cylinders through a manual hand valve for ease of use. The furnace includes a dip well on each side to provide molten aluminum to two die casting machines. The furnace temperature controller has the ability to automatically preheat and dry out the furnace lining. The controller will indicate when dry out is complete and hold until the operator is ready to switch to normal operation.



"At Lindberg/MPH we work with our customers to provide solutions that create a more efficient manufacturing process and maximize customer profitability. Energy efficiency and ease of maintenance underlie all our efforts."  Andrew Paul, Sales Representative



About Lindberg/MPH

In addition to melting and holding furnaces for non-ferrous alloys, Lindberg/MPH is a leading manufacturer of standard and custom industrial heat treat furnaces, including pit, box, IQ, and belt type for the ferrous and non-ferrous markets.  Lindberg customers cover a wide range of industries including aerospace/military, automotive, commercial heat treating, energy/oil, electronics and the forging markets.   Founded in 1917, the company has more than 75,000 industrial furnace installations worldwide and their equipment is backed by a full range of customer support services and the most extensive replacement parts inventory in the industry.  Lindberg is a proven leader in the thermal processing industry, with a long track record of proven policies and management practices.



Lindberg/MPH is owned by Thermal Product Solutions ("TPS"), a leading American manufacturer of custom industrial ovens used for heat treating, finishing, drying, curing, manufacturing automation and process control. TPS is a global leader in thermal processing products and test solutions with brands including BlueM, Gruenberg, Tenney, Lindberg, MPH and Wisconsin Oven. For more information on equipment solutions from TPS visit the website at www.thermalproductsolutions.com.

More from Thermal & Heating Equipment