Aluminum Manufacturers Achieve Maximum Quality, Energy Saving & Melt Safety from SECO/WARWICK Technologies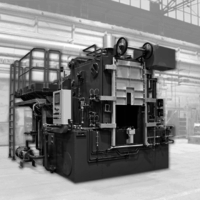 According to the Aluminum Association, the official U.S. trade group, the aluminum industry generates nearly $71 billion a year in direct economic impact in the United States. When all suppliers and related business functions are taken into account, the industry drives $174 billion in economic impact— almost 1 percent of the country's GDP.
An American manufacturer of flat rolled aluminum sheet recently added a new SECO/WARWICK sow and T-bar preheat furnace system to achieve maximum product quality, energy savings and melt safety. The installation puts an exclamation mark on SECO/WARWICK's support of the growing aluminum sector. Optimum air flow management and a heating system that promotes efficient heat transfer throughout the work and helps them manage production demands were unique features and benefits of the SECO/WARWICK system highlighted by the customer.
"SECO/WARWICK has always recognized the importance of designing systems that achieve superior performance to provide customers with maximum product quality, energy savings and safe operations. Our partnership with this customer enabled us to quickly recognize areas for process improvement and allowed us to collaborate on value solutions for their manufacturing process," stated Keith Boeckenhauer, Managing Director SECO/WARWICK USA.
The furnace includes the patented movable baffle system and fixed base airflow spacers for maximum heat transfer to varying height loads. The system is PLC controlled with remote I/O and dual operator interface control stations. 
"For this customer as well as other aluminum businesses, SECO/WARWICK provides innovative solutions to support primary aluminum production, aluminum sheet, plate and foil, aluminum extruded products and aluminum rolling and drawing mills," added Piotr Skarbiński VP Aluminium Process and CAB at SECO/WARWICK.
SECO/WARWICK Aluminum Furnace Systems
Since 1985, SECO/WARWICK has designed and manufactured custom engineered aluminum heat treat furnace systems for coil, foil, rod, wire, billet, slab and ingot heating used for annealing, homogenizing, preheat and reheat to roll applications. The company is a recognized world leader of aluminum melting and thermal processing equipment, with hundreds of highly productive and efficient systems installed worldwide to support primary aluminum production and downstream operations.
Furnace configurations include car, batch tray, travelling and pusher style furnaces, fully equipped with material handling and advanced control systems. SECO/WARWICK continues to develop innovative designs for improving furnace efficiency through airflow modifications, improved cooling rates and rapid heating systems.
More from Thermal & Heating Equipment