Aluminum Electrolytic Capacitors feature flat form factor.
Press Release Summary: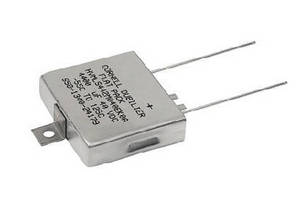 Housed in high-vibration package (HVMLS) or with high-reliability burn-in option (HRMLS), MLS Series is suited for military and commercial flight-based power systems. Units are packaged in flat, stainless steel cans, ½ in. high, with near-hermetic, precision-welded construction, tested at altitudes up to 80,000 ft. HVMLS version is further optimized with ruggedized internal terminations and compressed can edges that keep internal winding secure when tested up to 50 g vibration.
---
Original Press Release:

Arrow's RF & Power Business Introduces Expanded Line of MLS Flatpack Aluminum Electrolytic Capacitors from Cornell Dubilier



Includes high-vibration package and high-reliability burn-in options



LaFox, Illinois: Arrow Electronics, Inc. (NYSE:ARW) announced today the availability and full design support capabilities for the expanded line of MLS flatpack aluminum electrolytic capacitors from Cornell Dubilier.



The new additions to the MLS Series includes a high-vibration package (HVMLS) and a high-reliability burn-in option (HRMLS). The new devices are ideally suited for military and commercial flight-based power systems that require high-energy density, rugged capacitors for bulk storage. Prior to these new Cornell Dubilier devices, relatively expensive wet tantalum capacitors were the only type suited for these environments.



The MLS family of capacitors are packaged in flat, stainless steel cans, one-half inch in height, with a near-hermetic, precision-welded construction, tested up to 80,000 feet. Their flat form factor allows them to be fit into tight spots, easily cooled, and easily ganged for compact, high bulk storage. The HVMLS version is further enhanced with ruggedized internal terminations and compressed can edges that keep the internal winding secure when tested up to 50 g (g-force) vibration. The HRMLS version is burned-in up to 48 hours at rated voltage and 85°C, the established military standard for excellent reliability.



According to Cornell Dubilier, key features of the new devices include:




Near-hermetic welded seal



Stainless-steel case



100 years expected operating life



Withstands more than 80,000 feet altitude



Type HV up to 50 g



The HVMLS and HRMLS versions may be ordered together by specifying type HVHRMLS to ensure extraordinary life and reliability in the most critical of applications.



To find more information, or to purchase these products today online, please visit the Cornell Dubilier Expanded MLS Capacitors webpage. The devices are also available by calling 1-800-737-6937 (within North America); or please find your local sales engineer (worldwide) Local Sales Support. To learn more about additional products from Cornell Dubilier, please visit the Cornell Dubilier storefront webpage.



Arrow Electronics' RF & Power business, formerly known as Richardson RFPD, is a global leader in the RF and wireless communications, power conversion and renewable energy markets. Relationships with the industry's top component suppliers meet the total engineering needs of each customer. Whether it's designing components or engineering complete solutions, worldwide design centers and technical sales team provide support for all aspects of customers' go-to-market strategy, from prototype to production.



More information is available online at www.arrow.com/rfpower.



About Arrow Electronics

Arrow Electronics (www.arrow.com) is a global provider of products, services and solutions to industrial and commercial users of electronic components and enterprise computing solutions. Arrow serves as a supply channel partner for more than 100,000 original equipment manufacturers, contract manufacturers and commercial customers through a global network of more than 460 locations in 58 countries.



Cynthia Spears

Web Content Designer

Arrow Electronics

RF & Power

40W267 Keslinger Road

LaFox, IL 60147-0307

P 630.208.2337

cspears@arrow.com

www.arrow.com/rfpower

More from Electronic Components & Devices